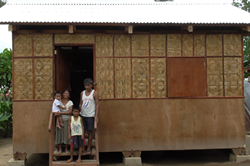 Sarasota, FL (PRWEB) November 06, 2014
It is almost a year since the most powerful storm ever recorded—Typhoon Haiyan—hit the island communities of the Philippines, and families continue to rebuild with the assistance of international disaster relief organization, ShelterBox.
The organization, which provides humanitarian aid—emergency shelter and other supplies, such as water filters, mosquito nets, and blankets, among other tools to help those who lose their homes and possessions after disasters, delivered supplies to help more than 7,200 families in the months following the storm.
REBUILDING CONTINUES
As families continue to rebuild their lives and communities today, ShelterBox continues to help the most vulnerable by partnering with other leading international organizations to construct nearly 1,700 core transitional shelters.
Designed to house a single family, the shelters will be constructed using locally sourced materials when possible and provide more than 8,000 people with a safe, durable home. The project will also help educate communities on how to build the shelters to withstand future storms.
TYPHOON HAIYAN REMEMBERED
Typhoon Haiyan struck the Philippines on November 8, 2013, claiming 6,200 lives and destroying a million homes. ShelterBox had been in country, responding to an earthquake in northern Bohol when the storm struck the region. ShelterBox aid prepositioned at the former US air base at Clark on Luzon Island allowed the charity's response teams to quickly release vitally needed supplies.
Despite logistical challenges posed by the islands and number of boats and trucks and communications infrastructure that had been damaged by the storm, ShelterBox focused its efforts on remote areas that no other aid agencies had yet assisted, including Bantayan island, where there was reported to be about 80 percent devastation.
"Many of the more remote communities that were affected were previously dependent upon the fishing industry," said ShelterBox operations manager, Alf Evans. "Many of their boats and equipment were destroyed. Other communities made their living as coconut farmers and suffered similar loss of income. Many of the coconut trees had taken 10 years to grow and as a result of the storm, they faced losing their entire income for the next 10 years, overnight."
ShelterBox tents and other aid items allowed these communities to live and rebuild next to their destroyed houses, boats and farms. One of these communities includes the village of Machumben, where Chip Chip, one of the estimated five million children who were affected by the typhoon, resided. Five years old and one of 18 in his family, Chip Chip's mother was seven months pregnant. His family received a ShelterBox tent and other aid items, allowing them to continue farming their land and begin rebuilding their home. For more information about ShelterBox's response to the typhoon, visit http://www.shelterboxusa.org/typhoon.
ShelterBox is also assisting families affected by the Syrian refugee crisis, conflict in Iraq, flooding in Niger and Nepal, and Hurricane Odile in Mexico. For the latest on ShelterBox deployments, visit http://www.shelterboxusa.org/news.
Since 2000, ShelterBox has provided families with shelter, warmth and dignity following more than 240 disasters such as earthquakes, floods, hurricanes, cyclones, tsunamis or conflict in over 95 countries. ShelterBox's American affiliate, ShelterBox USA, is headquartered in Sarasota, Fla. Individual tax-deductible donations to ShelterBox USA can be made at http://www.shelterboxusa.org/donate or by calling 941-907-6036.