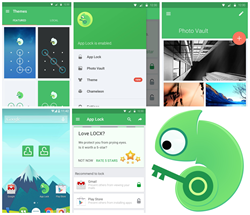 We want to be the go-to app for everyone's app protection needs. You cannot be that for your customers if you cannot keep up with the changing tides in technology.
Pittsburgh, PA (PRWEB) November 10, 2014
The newest protection app for Android devices, LOCX, was recently launched globally in the United States. By locking various apps or media behind password-protected barriers, LOCX is the perfect solution for all types of Android users. Coupled with a friendly user interface and high-quality backend development, this tool provides a key layer of protection for users' apps, photos, videos and other phone data.
LOCX's user-friendly interface makes it easy for anyone to find the features that best fit their specific needs. The sleek Google-like design is aesthetically pleasing and familiar to all Android users, giving them an easy way to gain privacy from a stranger or nosey family members. In the backend, developers continually manage the logistics of the application. Following the Android 5.0 launch, none of the similar apps in the Google Play store have been able to create such a practical app that also adheres to the new guidelines and features of the Android device itself like LOCX has.
LOCX provides superior protection for all Android users. The password-protected vault feature allows users to individually place photos into a "Photo Vault" and separately place personal videos into a "Video Vault." Additionally, LOCX gives users the option to enable a "random numbers" feature. When implemented, the numbers on the pad lock screen will scramble every time someone attempts to enter a password making it difficult to memorize patterns.
There are a variety of different reasons users would want to consider adding a privacy app to their Android phones. For example, today more and more parents hand over their phones to children in an effort to supply a level of entertainment to curious young minds. However, allowing them to access an adult's phone poses the risk of children wandering into work emails, texts messages, or banking apps. The LOCX features allow guardians to set passwords on apps that children do not have permission to enter. When activated, LOCX lessens the chance of children deleting work emails or sending nonsense messages by accident. While many of today's children's apps come with parental gates, many popular apps designed for both children and adults do not.
In other cases, users forget to lock their phones before leaving a room. When this happens, other people take this opportunity to post on various social media sites or look through personal media. Using LOCX, this situation can be avoided by engaging separate locks onto specific apps. In this case, even if the phone is left open or unlocked, viewers still need a password to open individual apps.
Soon, for those who feel safe in their homes, there will be an option with LOCX to automatically unlock all of the apps without turning off LOCX completely. By identifying the WiFi source a person connects to in his or her home, LOCX will automatically recognize the hotspot and unlock apps. When the user leaves the vicinity of the hotspot, locks will engage.
"We want to be the go-to app for everyone's app protection needs. You cannot be that for your customers if you cannot keep up with the changing tides in technology. That is why we work tirelessly to be sure LOCX is always functioning correctly on Android devices," said LOCX Project Manager.
For users looking for an easy to use, friendly Android app protection software, LOCX does the job well. Family, friends, girlfriends or boyfriends will all find something to cater to their privacy needs. LOCX's strong protection features and back-end development offer a tool that Android users want in all kinds of scenarios - a reliable app that protects personal data.
About LOCX
LOCX is an app protection software developed for the privacy of concerned Android users. LOCX is available exclusively to Android users in the Google Play store. Users can download the app for free and starting locking their personal phone data today.