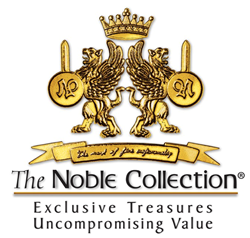 "Adding Noble to the Ability family shows how our alliance with JDA has been extremely rewarding."
Delray Beach, FL (PRWEB) November 06, 2014
Ability Commerce, a leading provider of direct commerce software, announced that The Noble Collection is live with the Ability Commerce SmartSite Ecommerce Platform.
The Noble Collection, an international multichannel retailer, creates, designs and produces licensed merchandise, specializing in movie props and collectibles. In looking to update their front-end ecommerce solution, Noble hired consultants to perform discovery and due diligence of leading Ecommerce Platform providers (ECP). Their requirements included a reputable company with a solid customer base and robust platform and most importantly, a company who could work with their back-end Enterprise Resource Planning Solution (ERP), JDA Direct Commerce.
As a JDA Direct Commerce/Ecometry Professional Services Partner, Noble chose Ability Commerce and their SmartSite ECP to meet all their critical requirements.
"Adding Noble to the Ability family shows how our alliance with JDA has been extremely rewarding. Not only have we provided Noble Collection with the powerful solution they were looking for, but we will also be upgrading their JDA ERP system as well," said Shawn Ellen, Director of Sales and Marketing for Ability Commerce.
About The Noble Collection
The Noble Collection is an international multichannel retailer specializing in the creation, design and production of movie props and collectibles. For more information about The Noble Collection, visit http://www.noblecollection.com/
About Ability Commerce
Ability Commerce is a leading provider of order management, ecommerce and financial software platforms that help growing businesses increase revenue, reduce overhead and engage with their customers. The company ranked No. 3 in the Marketplace Management category on Internet Retailer's 2014 list of Top Second Collective 500 ("Second 500") Leaders. Its comprehensive solutions, which enable companies to acquire, convert and retain customers more efficiently, include the Ability OMS (order management system) module and the SmartSite ecommerce platform. Also, as a Microsoft Gold Partner, Ability Commerce offers the Microsoft Dynamics GP ERP (enterprise resource planning) solution. While founded in 1999, Ability Commerce leverages more than 30 years of combined direct marketing and management experience from its sister company, Marketing Concepts, a forerunner in the direct commerce industry. For more information about Ability Commerce, visit http://www.abilitycommerce.com or email info(at)abilitycommerce(dot)com