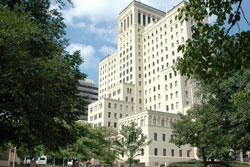 In achieving Joint Commission advanced certification, Allegheny General Hospital has demonstrated its commitment to the highest level of care for its patients with heart failure."
Pittsburgh, PA (PRWEB) November 07, 2014
The Joint Commission, in conjunction with The American Heart Association, has recognized Allegheny General Hospital (AGH) with Advanced Certification in Heart Failure. AGH is the only hospital in southwestern Pennsylvania that has earned this elite designation.
Achievement of this certification signifies an organization's dedication to fostering better outcomes for patients in its heart failure program. Allegheny General Hospital's Advanced Certification in Heart Failure demonstrates that the hospital meets critical elements of performance to achieve long-term success in improving outcomes for patients diagnosed with and being treated for heart failure.
Heart failure, also called congestive heart failure, occurs when the heart muscle can't adequately pump blood throughout the body. Heart failure causes shortness of breath, fatigue and can make activities of daily living, like walking or shopping, nearly impossible.
AGH, part of Allegheny Health Network, underwent a rigorous on-site review by a Joint Commission expert in September 2014. The evaluation examined the Hospital's compliance with the requirements for The Joint Commission's Disease-Specific Care Certification program as well as heart failure-specific requirements, such as collecting Joint Commission core measure data and using it for performance improvement activities.
"In achieving Joint Commission advanced certification, Allegheny General Hospital has demonstrated its commitment to the highest level of care for its patients with heart failure," says Michele Sacco, M.S., interim executive director, Certification Programs. "Certification is a voluntary process and The Joint Commission commends Allegheny General for successfully undertaking this challenge to elevate its standard of care and instill confidence in the community it serves."
The Joint Commission's Advanced Certification in Heart Failure Program, launched in 2011, is designed to target methods of providing safe, successful transitions of care as the patient moves from the inpatient setting to an outpatient setting. The heart failure requirements were developed in consultation with an external task force of individuals and organizations with expertise in heart failure care, including representatives from the American Heart Association, Heart Failure Society of America and American Association of Heart Failure Nurses. These groups also provided feedback on how to evaluate heart failure programs that provide care in both inpatient and post-acute care settings.
"Allegheny Health Network is thoroughly committed to providing our patients with the highest quality heart failure care possible," said Srinivas Murali, MD, a heart failure specialist and Director of Allegheny Health Network's Cardiovascular Institute. "Earning The Joint Commission's Advanced Certification in Heart Failure further underscores the exceptional heart failure program we provide for our patients as a nationally-recognized, leading referral center for advanced cardiovascular medicine."
Allegheny General Hospital has long been known for providing superior state-of-the-art care for patients in heart failure, offering access to the region's most comprehensive, multi-disciplinary team of specialists and innovative therapies, including many available only through advanced clinical trials.
AGH has been recognized since 2012 with the American Heart Association's Get With The Guidelines Heart Failure Gold Plus Quality Achievement Award for meeting the highest standards for heart failure treatment.
Allegheny's team of heart failure specialists offers leading edge treatment for the many causes of heart failure, from high blood pressure or narrowed arteries to diseased heart valves or congenital disease. AGH has helped pioneer the use of the latest generation of implantable cardioverter-defibrillators—battery-powered devices that continuously monitor heart rhythm, collect important data about heart function and, when needed, may assist in regulating abnormal heart beat.
In 2012, Allegheny Health Network unveiled a $7 million state-of-the-art hybrid operating room at AGH, featuring an advanced robotic CT imaging system to assist surgical teams in performing highly complex cardiovascular procedures for patients in heart failure.
The team at Allegheny General's Cardiovascular Institute was among the first in the nation to perform Transcatheter Aortic Valve Replacement procedures, replacing defective aortic heart valves via a catheter inserted through the femoral artery in the leg or through a small chest incision providing direct access to the heart. AGH also has introduced in new minimally invasive treatments to repair defective mitral valves via robotic-assisted minimally invasive surgery or a catheter-based approach in which the leaflets of the valve are clipped together.
AGH's cardiovascular institute played an instrumental role in the development of left ventricular assist devices, mechanical pumps that are surgically implanted to assist a weakened heart muscle that can no longer supply oxygen-rich blood throughout the body and may be used as either a destination therapy or bridge to transplant.
For patients with severe heart failure requiring heart transplant, Allegheny General Hospital 's heart transplant program is among the nation's best in patient care quality, according to the latest report by the Scientific Registry of Transplant Recipients (SRTR), the official national database of organ transplantation statistics. AGH's heart transplant program posted the best one month and three year patient survival rates in the western Pennsylvania region according to the SRTR report.
Allegheny General Hospital's heart failure program is led by Raymond Benza, MD, Medical Director of the Advanced Heart Failure, Transplantation, Mechanical Circulatory Support and Pulmonary Hypertension Program and Stephen Bailey, MD, Director of AGH's Division of Cardiac Surgery and Surgical Director of Cardiac Transplantation and Mechanical Circulatory Support.
The hospital's team of heart failure specialists includes: cardiologists George Sokos, DO; David Lasorda, DO; Amresh Raina, MD; Andrew Pogozelski, MD; Raef Hajjali, MD; Rachel Hughes-Goichev, MD; Vajaya Sanikommu, MD; Indu Poornima, MD; Richa Agarwal, MD; Manreet Kanwar, MD; Francis Redican, MD; Anita Radhakrishnan, MD; Suad Ismail, MD; Michael Haggarty, MD; and Ramzi Khalil, MD; Director of Cardiac MRI Robert Biederman, MD; and cardiac surgeons Robert Moraca, MD and Walter McGregor, MD.
Allegheny General Hospital will be able to display The Joint commission's Gold seal of Approval and the American Heart Association Heart-Check mark for Advanced Certification in Heart Failure. Displaying the seal and Heart-Check mark signifies that AGH is providing the "next generation of stroke or heart failure care," and will help patients easily identify the hospital as a facility that has surpassed numerous goals in the treatment of heart failure.
For more information on The Joint Commission and American Heart Association's Advanced Certification in Heart Failure visit http://www.jointcommission.org/ or http://www.heart.org/myhospital.
###
About The Joint Commission:
Founded in 1951, The Joint Commission seeks to continuously improve health care for the public, in collaboration with other stakeholders, by evaluating health care organizations and inspiring them to excel in providing safe and effective care of the highest quality and value. The Joint Commission accredits and certifies more than 20,500 health care organizations and programs in the United States, including hospitals and health care organizations that provide ambulatory and office-based surgery, behavioral health, home care, laboratory and nursing home services. An independent, not-for-profit organization, The Joint Commission is the nation's oldest and largest standards-setting and accrediting body in health care. The Joint Commission has two nonprofit affiliate organizations: The Joint Commission Center for Transforming Healthcare aims to solve health care's most critical safety and quality problems and Joint Commission Resources (JCR) provides consulting services, educational services and publications. Joint Commission International, a division of JCR, accredits and certifies international health care organizations. Learn more about The Joint Commission at http://www.jointcommission.org.
About the American Heart Association/American Stroke Association:
The American Heart Association is devoted to saving people from heart disease and stroke – America's No. 1 and No. 3 killers. We team with millions of volunteers to fund innovative research, fight for stronger public health policies, and provide lifesaving tools and information to prevent and treat these diseases. The Dallas-based association is the nation's oldest and largest voluntary organization dedicated to fighting heart disease and stroke. To learn more or to get involved, call 1-800-AHA-USA1, visit heart.org or call any of our offices around the country.