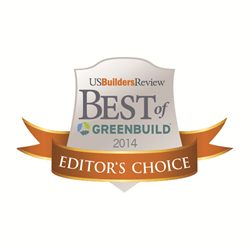 Aeroseal has proven to be a highly cost-effective means of sealing ductwork in both new and existing structures.
Centerville, Ohio (PRWEB) November 08, 2014
Aeroseal LLC, sole licensee of a breakthrough duct sealing technology, was awarded editor's choice for Best Of Show by US Builders Review magazine at this year's GreenBuild Expo, one of the world's largest trade shows dedicated to sustainable building practices. Aeroseal was recognized above all other show participants for its innovative technology and for the potential impact that aeroseal duct sealing technology represents to the sustainable building industry.
This year's expo, held October 22 through October 24 at the Morial Convention Center in New Orleans, Louisiana attracted around 25,000 attendees and included more than 750 suppliers and manufacturers exhibiting the latest in sustainable building solutions.
"The potential impact that Aeroseal technology could have on energy savings is estimated by the D.O.E. to be in the billions of dollars annually," said US Builders Review's Editorial Director, Ian Nichols. "Of the hundreds of products and technologies represented at this year's Greenbuild, we felt that none were more deserving of this award than Aeroseal."
Unlike traditional manual duct sealing using tape or mastic, aeroseal technology works from the inside of the ductwork to seal leaks. An aerosol-mist of sealant is blown throughout the interior of the ductwork where the microscopic particles of sealant remain suspended in air until they reach a leak. Here they cling to the edge of the hole and then to other sealant particles until the leak is completely covered. This inside-out approach makes it easy to reach and seal all the leaks – even those found on ductwork that is hidden behind walls, under insulation or other hard to access locations.
"Aeroseal has proven to be a highly cost-effective means of sealing ductwork in both new and existing structures," said Aeroseal CEO Amit Gupta. "Most importantly, it is quicker and much more effective at sealing leaks than other method. As regulations continue to evolve and reflect increasingly tighter leakage rates, aeroseal will become a standard practice."
The editorial staff of US Builders Review magazine served as judges in the competition and sponsored the award. Information about Aeroseal and other award winners can be found on the publication's website at http://www.usbuildersreview.com/greenbuild. For more information about Aeroseal LLC or aeroseal duct sealing technology, visit http://www.aeroseal.com.