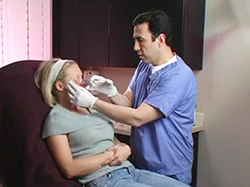 Los Angeles (PRWEB) November 06, 2014
On November 3, 2014, Harper's Bazaar Magazine posted an online report titled "The Latest Ways to Anti-Age Your Eyes" that provides a primer for consumers seeking to address dark circles, wrinkles, and under eye bags. The article discusses the causes of these issues as well as offering treatment suggestions. For example, under eye bags may be the result of lax muscles beneath the eyes. These muscles are responsible for supporting the fat around one's eyes and when they become lax due to aging, fat can bulge out. (see: goo.gl/8RUK9w)
"The suggestions contained in the article are reasonable," says Dr. Simon Ourian, Medical Director of Epione Beverly Hills. "However, I don't know that I'd suggest a $500 serum that only provides results for 16 hours."
According to the Harper's Bazaar Magazine report, dermal filler injections are suggested to minimize dark circles by adding volume to these areas. Micro beads of filler injected into the tear troughs and cheeks can correct the hollowed-out look. To address sagging skin, the article recommends both ultrasound and radio-frequency treatments. The goal of these treatments is to tighten the skin and boost collagen production.
"For under eye bags and dark circles I often recommend the CoolFrax or Coolaser treatment protocols, perhaps in conjunction with dermal filler injections," says Dr. Ourian. "I agree with the article's suggestion that it's important to address collagen loss."
Dr. Ourian has been a pioneer in laser technology and non-invasive aesthetic procedures including Restylane, Juvéderm, Radiesse, Sculptra, and CoolSculpting. These treatments are used for the correction or reversal of a variety of conditions such as acne, acne scars, skin discoloration, wrinkles, unwanted fat, stretch marks, varicose veins, cellulite, and others. More information about under eye bags can be found on Epione's website.