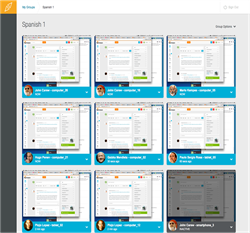 With Classroom Orchestrator, teachers can use devices to enhance learning by monitoring use and keeping students focused.
Brentwood, Essex (PRWEB UK) 13 November 2014
Mobile devices can engage students and be successful tools for learning. However, with a full class, monitoring those devices and ensuring they are being used appropriately can be challenging for teachers. Classroom Orchestrator from Lightspeed Systems solves this issue and makes monitoring devices and student activity simpler. With Classroom Orchestrator, teachers can focus on what really matters – students.
Incorporating an easy-to-use and clean interface, Classroom Orchestrator gives teachers a centralised view of all student screens so it's easy to see who's on task, who needs help, and who's ready to advance. From a thumbnail view of the whole class, teachers can drill in for more detail on an individual student and even start recording a student screen. This granular level of monitoring increases student accountability and allows teachers to personalise instruction.
Classroom Orchestrator seamlessly integrates with school Student Information Systems (SIS), so adding classes and students is quick and easy. Teachers can also see at a glance if any devices are not being filtered, creating even more classroom control.
Lightspeed Systems makes mobile learning easier and more effective by providing compliant filtering on or off the network; mobile device management; and a learning management system, My Big Campus. When integrated with these solutions, Classroom Orchestrator is part of a complete Mobile Learning Essentials solution that makes teaching and learning with technology easier and more effective.
More features added to Classroom Orchestrator over the next months will include virtual hand raising, instant chat, live polling, and more.
"Classroom Orchestrator is the next step in successful mobile learning programmes," shares Brian Thomas, President of Lightspeed Systems. "We want to empower teachers to use mobile devices for learning by making monitoring those devices in the classroom easier. Classroom Orchestrator does that and more."
With Classroom Orchestrator, teachers can use devices to enhance learning by monitoring use and keeping students focused. Offered on its own or as part of the integrated Mobile Learning Essentials solution, Classroom Orchestrator is available now for Windows devices.
To learn more about Classroom Orchestrator and see it in action, visit lightspeedsystems.com/en-uk/products/classroom-orchestrator/.
About Lightspeed Systems
Lightspeed Systems partners with schools to make learning safe, mobile and collaborative.
Our Mission is to transform education by safely and easily connecting people, resources, and technology. We've helped thousands of schools around the world protect and engage more than 25 million students. Lightspeed Systems + Your School. Together we do amazing things.