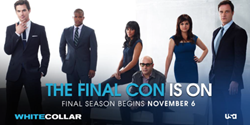 Miami (PRWEB) November 07, 2014
"White Collar" UNLOCKED & RELEASED – auctioning off the designer wardrobe and props by J. Sugarman Auction Corp, beginning on Saturday, November 22nd and Sunday, November 23rd, 2014 and continuing until the final episode airs.
USA Network had announced the hit drama "White Collar" would be ending its sixth and final season this year. The production company had then decided to offer their fans an opportunity to purchase some of the pieces of the show by putting them up for auction and hiring J. Sugarman Auction Corp.
As the first episode of the 6th season aired last night, Thursday, November 6th, J. Sugarman Auction Corp staff has been working steadfastly to get many of the amazing items used in the production ready for this Online Auction event. Almost every item sold can be found in at least one of the episodes filmed during its six year run. This will provide fans an opportunity to buy something from their favorite show, whether to wear it or simply display it as a conversation piece. Even for those that may not have been long "die hard" fans there are many items that would be amazing to simply own or give as a gift.
All the items will come with a certification of authenticity card – to verify that these items came from the production of the White Collar show. The final auction will be conducted after the Final Episode Airs on December 11th – these items will contain many of the props from Final Season 6 of White Collar.
Some of the key props from the show include
*Neal's FBI ID in his wallet
*The Hope Diamond
*Higgins Barrow Box & Bottle
*FBI Dosser on Welsh Gold Coins
*Neal's FBI File
*Neal's Anklet w/ Case
*Many Suits Custom For Neal - Matt Bomer
*Wardrobe from all the Main Characters
"This auction features Extremely High End Designer Names," says Annette Boves Grasso of J. Sugarman Auction Corp. " Some of the amazing clothing include: Dulce Gabbana, Versace, Gucci, Prada and so many more. Many of the unique props were hand made just of the show. They spent $5,000 creating a replica Faberge Egg. There is even a robotic baby doll – that looks like a real baby."
"This sale is going to be a windfall for Christmas Shopping with all the great items," remarked Jay Sugarman, the namesake of the J. Sugarman Auction Corp.
The Online Auction starts Saturday, November 22nd at 12 p.m. EST. and Sunday, November 23rd at 12pm.
The 2nd round of Auctions will be Saturday, December 6th and Sunday, December 7th.
The final Auctions will be Saturday, December 13th and Sunday, December 14th.
Log on to this auction by going to: http://www.jaysugarman.com.
Contact:
Scott Grasso
scott(at)jaysugarman(dot)com
954-464-3434
Annette Boves Grasso
annette(at)jaysugarman(dot)com
954-479-1757