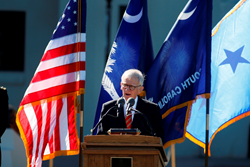 The Citadel taught me how to be a leader
Charleston, SC (PRWEB) November 08, 2014
The Honorable Mayor Joseph P. Riley, Jr. will return to his alma mater, The Citadel, to be the first occupant of the Joseph P. Riley, Jr. Endowed Chair of American Government & Public Policy when he retires from his elected position as mayor of the City of Charleston in January of 2016. Riley, who graduated from The Military College of South Carolina in 1964 with a degree in political science, will have been mayor for 40 years when he steps down.
The Riley Chair was announced during a news conference on the historic campus of The Citadel on Friday, November 7, where the college's President, Provost, Board of Visitors, Deans, faculty and cadets along with many of Riley's classmates, joined the Mayor to congratulate him.
"The three major blocks in the early foundation of my personal and professional life were my family, my church and my education and training at The Citadel," Riley said to the crowd gathered on Summerall Field in front of the barracks he once occupied. "It is an especially great honor to be able to help guide our nation's next leaders as the first in the line of Riley Professors at The Citadel. I look forward to my time ahead with cadets and colleagues, as well as my continuing work in our remarkable community." That work will include continuing, as The Citadel's Riley Professor, his association with the Joseph P. Riley Jr. Center for Livable Communities at the College of Charleston.
"The Citadel taught me how to be a leader. We learned leadership from our professors and the college president, but especially from each other," Riley said.
Riley is one of the most important figures in American municipal government over the last half-century. He served in the South Carolina General Assembly from 1968-1974. He has been mayor longer than almost anyone in U.S. history who was elected in non-partisan contests. Riley is often credited with "saving" Charleston after Hurricane Hugo in 1989, aiding the stranded and garnering millions of dollars to repair the city. His administration is also credited with fostering economic growth strategies that have earned Charleston a global reputation as one of the most desirable places in which to do business, live and visit.
"On behalf of The Citadel I am pleased to welcome Mayor Riley as he agrees to return to his alma mater after leading Charleston so successfully for four decades," said Citadel President, Lt. Gen. John W. Rosa. "Faculty, staff, cadets, students, alumni and donors are looking forward to attending his lectures on campus and learning firsthand, from one of America's greatest mayors, how he applied principled leadership to his work to make Charleston such an exceptional place."
At the event, Riley formally accepted the Chair, which will be housed within the Department of Political Science of The Citadel's School of Humanities & Social Sciences. Efforts are underway by The Citadel Foundation to raise a minimum of $2.5 million to endow the position.
"Under Mayor Riley's guidance, Charleston has become a vital center of creative partnerships between representatives of different political parties, various levels of government, and the private sector," said Bo Moore, Dean of the School of Humanities and Social Sciences. "It demonstrates that officials who are ethical, skilled in the principles of good leadership, and who put the interests of the people they serve above their own can still govern very effectively, and earn the confidence of their constituents."
Riley will write his memoirs and participate in the creation of an extensive oral history of his life and career while serving as the college's first Riley Professor. He will also lecture on campus and arrange guest lectures by other distinguished public servants.
The announcement was held during The Citadel's 2014 Homecoming weekend because many members of Riley's graduating class could be present as they were celebrating their 50th reunion.
About The Citadel
The Citadel is a four-year, public college in historic Charleston, South Carolina. The Citadel offers a classic military college education for young men and women profoundly focused on leadership excellence and academic distinction. Graduates are not required to serve in the military but about 30 percent of each class commission as officers in every branch of U.S. military service. Graduates of The Citadel have served the nation, their state and their community as principled leaders since the college was founded in 1842. The Citadel Graduate College offers more than 40 Master's degrees and graduate certificates in a wide range of disciplines, plus five undergraduate programs, through an all-evening schedule. Some graduate courses are available online.