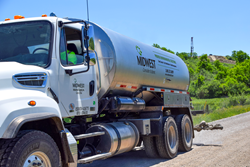 CANTON, OH (PRWEB) November 07, 2014
Everyone knows that too much dust is bad for business. Unpaved roads associated with complex industrial operations, if not properly managed, can prove to be a major liability for oil companies, hardrock mines, steel mills, quarries and more. Dust not only creates hazardous conditions for employees and equipment; it can impact environmental compliance and raise operating costs.
Most dust control efforts are poorly executed due to misunderstandings related to their performance. When choosing a dust control program, far too many companies use price-per-gallon as the main factor in their decision without even understanding what a successful outcome might look like. Though the reasons for this approach vary, the choice can best be attributed to an excessive focus on the product and a lacking consideration of the site's actual issues.
Midwest Industrial Supply, Inc. understands the challenges that operators face when selecting a dust-control solution, which is why it developed the Managed Service Program in accordance with the philosophy, "Program, not Product." From evaluating traffic flows to determining soil makeup in order to find the product that works best, Midwest believes that a proper understanding of the site itself is critical to reducing dust on unpaved roads.
As the program lasts throughout the dust control season, our Managed Service provides a holistic strategy for mitigating the undesirable effects of excess dust. After a careful site evaluation that incorporates all the diverse factors that make each site unique, Midwest develops a strategy based on a product with the most effective chemical makeup in combination with the site's soil composition.
The next step, program management, is the most important stage in guaranteeing the success of the dust control solution. Without continuous follow-ups to the product's application, Midwest has found that the program's efficacy decreases exponentially within a week, plummeting to around 5% dust mitigation from 85% right after application.
As an added incentive to engage in the Managed Service Program, Midwest offers a "Risk Share Model," which balances the investment required at the beginning of the program with the realities of most customers' budgetary limitations. This model includes a trial period during which a section of the road is treated in order to better define success factors (i.e. acceptable dust levels) upon which a project plan may be constructed.
Midwest has a wide range of products that can be called upon based on the unique needs of the site as determined by the Managed Service Program. By using a site-specific approach, companies whose operations make heavy use of unpaved roads can safely and effectively combat dust.
Midwest is the world leader in environmentally sound dust control, erosion control, and soil stabilization technology. We bring our customers more solutions, documentation and support than any other manufacturer. On a daily basis, we challenge ourselves to become even more accessible problem solvers so we can set a new industry standard for proactive and responsive service. Pushing the envelope is part of our corporate DNA, and we strive, always, to develop cutting-edge processes, products and services; stay on top of the learning curve, and educate our customers for our mutual success.