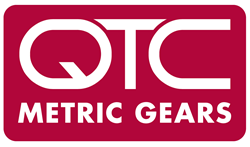 New Hyde Park, New York (PRWEB) November 10, 2014
Designatronics, Inc., a leader in providing complete mechatronic engineered solutions and services to the aerospace and defense, robotics, packaging, medical, and oil and gas markets announced today the change in name and look applied to one of its brands, QTC METRIC GEARS.
QTC METRIC GEARS, formerly Quality Transmission Components, (http://www.qtcgears.com) has been repositioned, focused entirely on becoming the premiere supplier of metric gears to North America. To achieve this they will be expanding from KHK metric gear distribution, adding gears from KG and Sterling Instrument. QTC METRIC GEARS will grow to provide modular manufacturing and include miniature to small fine pitch precision gears. By offering modular manufacturing and a broad range of sizes, configurations and materials they have reduced lead time for special applications and positioned themselves as the only source for any metric gear needed.
QTC METRIC GEARS components and gear products can easily be found and purchased online. Also, complete product specifications are provided and 3D CAD Models can be easily downloaded directly into any design. In addition to carrying a large inventory to satisfy immediate requirements, customized design and modifications are available.
To better represent this commitment to being the complete source for metric gears and gear products, a new, more modern approach has been followed in the logo redesign. The updated name and logo can be viewed at the current website and will be applied to the new website currently under construction and the Q430 Metric Gear catalog which will be available soon from QTC METRIC GEARS.
About Designatronics
Designatronics, Inc. manages its brands to develop comprehensive mechanical solutions that optimize value in the global markets that are served. Integrated design, engineering and manufacturing are under one roof. Stock Drive Products offers both inch and metric off-the-shelf mechatronic components for the design engineer. Sterling Instrument makes high-quality precision gears and gear assemblies, and offers customized design, making what others can't. Other mechanical components are offered by QBC – the bearing marketplace and AAC providing shock and vibration control solutions. For more information, visit http://www.designatronics.com.
Designatronics News Release 002, 11.10.14
2101 Jericho Turnpike, New Hyde Park, NY 11040 (516) 328-3300 http://www.designatronics.com