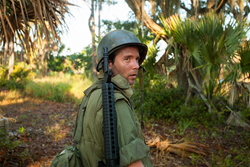 Indian Land, SC (PRWEB) November 07, 2014
"Not Forgotten" will premiere Tuesday, November 11th on INSP and at Moments.org
This Veterans Day, Tuesday, November 11th in partnership with The United States of America Vietnam War Commemoration, INSP will premiere "Not Forgotten," a scripted dramatic short film paying tribute to our nation's POW/MIA service members and the families that face lifelong questions as they honor their memory.
"Not Forgotten" tells the story of an American widow who finds the closure she's been seeking for more than forty years when her MIA Marine husband's identification tags and wedding ring are recovered in Vietnam. Through their story, INSP memorializes and salutes all of the servicemen who were reported as missing in action during the Vietnam War.
The short film premieres on Veteran's Day and will continue to air on INSP and at Moments.org, INSP's web network that produces original short films designed to inspire, encourage and entertain viewers with stories that celebrate love, life, faith, family and patriotism.
INSP has a strong tradition in honoring U.S. troops. A previous Moments video, "Thank You for Your Service" has garnered almost two million views as well as tremendous accolades and a personal recommendation from Lieutenant General Claude "Mick" Kicklighter, United States Army (Retired), Department of Defense.
Check your local and online guides for channel information or visit FIND INSP to determine availability in your area. To view a screener of "Not Forgotten" please click here and enter the password: moment. To view other Moments videos, visit http://www.moments.org.
On Tuesday morning, "Not Forgotten" will be available to upload to your website for Veteran's Day.
And feel free to share other videos in the Moments series that honor our men and women in uniform.
YouTube embed codes are readily accessible for each video.
###
About INSP
INSP has become one of America's fastest-growing television networks and is available in more than 80 million U.S. households. The network can be seen 24 hours-a-day through 2,800 cable systems, DirecTV (Ch. 364), Dish Network (Ch. 259), AT&T Uverse (Ch. 564), and Verizon FiOS (Ch. 286). For quality dramas, positive entertainment and inspiring stories, celebrating the American spirit and honoring timeless traditional values, it's INSP. Welcome Home!
About MOMENTS
As seen exclusively on family entertainment television network INSP, MOMENTS are original, short-length, award-winning programs designed to inspire viewers with stories that celebrate love, faith, service, patriotism and other timeless truths in action. The films at Moments.org have been honored by various United States government and military agencies, and have won numerous industry awards, including: Telly Awards, Summit Creative Awards, CBC Media Awards, CableFax Programming Awards, New York Festivals Film & Television Awards, and more.