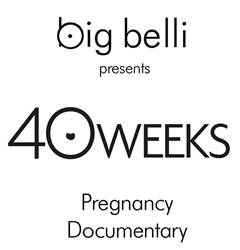 NEW YORK, N.Y., NOVEMBER 10, 2014 (PRWEB) November 10, 2014
Big Belli – an industry leading video resource for expecting families – announces 40 WEEKS film to premiere on December 1st at the famed Angelika Film Center in New York City and will subsequently premiere in nine additional cities through January 2015. 40 WEEKS is the first unscripted documentary film to offer an intimate window into the week-by-week journey of pregnant women across the country. 40 WEEKS is directed by Christopher Henze and supported by Dominique Debroux, Kurt Engfehr, April Merl, Kate Rolston, and Lisa Singer.
40 WEEKS will be premiering in the following cities:

December 1, 2014 – Angelika Film Center, New York, New York
December 3, 2014 – L.A. Live, Los Angeles, California
December 4, 2014 – San Francisco, California
December 9, 2014 – Dallas, Texas
December 10, 2014 – Atlanta, Georgia
January 6, 2015 – Chicago, Illinois
January 7, 2015 – Washington, D.C
January 8, 2015 – Miami, Florida
January 12, 2015 – Boston, Massachusetts
January 13, 2015 – Philadelphia, Pennsylvania
40 WEEKS examines topics surrounding pregnancy and child birth such as sonograms, morning sickness, prenatal nutrition, screenings, safe remedies, fetal development, preparing for delivery, single parenting, same-sex parenting, health risks, pre-term labor, low birth weight, home safety, preparing to bring the born home and more.
Director Christopher Henze says, "40 WEEKS is an incredible opportunity for me to honor my wife, my family, and all mothers, for being willing and able to go through this beautiful transformation. While the market is awash with media about conception and parenting, no documentary project has ever sough to fully explore the emotional journey of each of the forty weeks of pregnancy."
40 WEEKS explores the emotional and physical changes through pregnancy, the hopes and fears and the confusing and often difficult choices that can be presented during this time. 40 WEEKS follows the diverse stories of the following "real" American couples:
Alex and Lucien DeVoux
Asya Reznikov and Mike Rosenthal
Diana and Min Tran-Kim
Donielle Maddox
Elizabeth and Max Joice
Emily Castillo
Jessica and James Todd
Kelly and Jared Balsky
Natalia and Mauricio Quintana
Phoebe and Jen Hamilton
Sandy Massillon
Vicky and Jose Vargas
Victoria and Christopher Moody
To bring you 40 WEEKS, Big Belli has partnered with the Association of Women's Health, Obstetric and Neonatal Nurses (AWHONN), HealthyWomen.org, and the March of Dimes to provide expertise and support as you journey through your pregnancy from announcement to birth.
Sponsors of Big Belli include: Seventh Generation, Dr.Smith's. Cord Blood Registry® (CBR®), CitraNatal, ept, Crest Pro-Health, Gerber Life Insurance, National Fisheries Institute, Lumara Health™, zarbee's, Mederma, healthy mama™, and Ariosa.
For more information on 40 WEEKS, visit https://www.40weeksthemovie.com/. Follow 40 WEEKS on Facebook, @40WEEKSthemovie and on Twitter, @40_WEEKS. For screenings near you or to host a 40 WEEKS screening, please visit: http://www.40weeksthemovie.com/about-movie/find-screening.