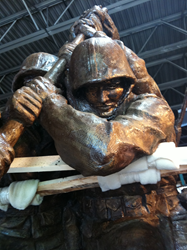 San Diego, CA (PRWEB) November 09, 2014
What's the perfect gift for the Marine Corps as it celebrates its birthday?
A California resident, Laura Dietz, believes she has the answer: the creation of a new memorial at Camp Pendleton to include the original sculpture of the famous Iwo Jima Flag Raising by Marines on February 23, 1945, as immortalized in the Pulitzer prize winning photograph by Joe Rosenthal of AP.
That dramatic photograph led to the sculptures by Felix DeWeldon, including the massive 80,000 lb bronze that stands in Arlington, VA, that is the Marine War Memorial to honor all Marines who have died during the Marine Corps' history.
"When I read that an Iwo Jima monument by the original sculptor, Felix De Weldon, was up for auction in New York City last year, I monitored the news to determine who had delivered the winning bid," said Laura Dietz, 69, a supporter of Marine Corps families, both active duty including wounded warriors over the past 10 years from adjacent Orange County, CA.
Upon learning that bidding at the auction had not reached the reserve and therefore the sculpture was still available, she embarked upon "Operation Home Of The Brave", what has now become a 20-month quest to find a way to purchase and move that monument from its location in Connecticut to the perfect home – forever at Camp Pendleton, the massive Marine Corps base located near San Diego, CA.
"Camp Pendleton is where Marines trained that went out to the Pacific war theatre from 1942 – 1945," added Dietz. "That base is lacking a significant Iwo Jima monument to represent what some label the bloodiest battle in Marine Corps history, where over 6,800 Marines died in conflict." There is a small monument on the base now that cannot readily be seen from any roads.
"How soon can you get it to Camp Pendleton? You know we Marines are dying, and I don't know how long my buddies and I can hold on," said Marine Corps legend Sgt. Major Michael "Iron Mike" Mervosh, who survived all 36 days at Iwo Jima. Dietz' response: "I can't let these Marines down. A void at Camp Pendleton must be filled -- and soon."
"Just imagine this new monument magnificently displayed for passersby's to see from Interstate 5, as well as, of course, on the base," said Dietz. "At night, I envision it lit in red, white and blue near a dramatic cluster of US flags swaying in the breeze of the same ocean where this historic battle took place.
Operation Home Of The Brave is seeking donations that will go directly to support the purchase, storage, transportation, and establishment of the sculpture at its permanent home, protected from the elements, on the hillside at Camp Pendleton overlooking Vandegrift Blvd. Any remaining funds will be used to enhance the Marine Corps Recruit Depot ("boot camp") History Museum in San Diego. The monument purchase comes with Felix de Weldon's sketches, tools, and photographs. Dietz wants to see a special exhibit area developed to enhance the experience for 300,000 visitors every year, including high school students. Funds are being set aside for a permanent maintenance as described in documents filed with the IRS.
Ms. Dietz has established a 50l (c) (3) designated a public charity by the IRS under the name of Iwo Jima Monument West. Fully tax deductible, you can find out how to donate at the website in memory of a loved one or unit. Go to http://www.marinesoniwojima.com.
In short, Ms. Dietz adds, "This is my way of thanking the Marine Corps for what they do, and how they do it. America is exceptional and the Marines personify that as they live by the creed of honor, courage and commitment."