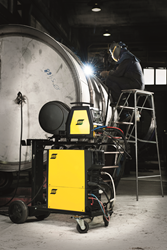 Florence, SC (PRWEB) November 14, 2014
ESAB Welding & Cutting Products introduces the Aristo® Mig 4004i Pulse power source to its top-of-the-range Aristo® family of welding equipment. Designed for high productivity and quality welding applications, and using the latest inverter technology, the new Aristo® Mig 4004i Pulse with Aristo Feed 3004 or Aristo Feed 4804 wire feeder forms a complete MIG/MAG package. The Aristo Feeds are offered with a choice of menu-based machine interface: the user-friendly U6 or more advanced U82 control panel. Together, these products can boost productivity, enhance weld quality, and reduce operating costs through lower energy consumption.
The Aristo® Mig 4004i Pulse is a lightweight, multi-process welding power source that can be used for MIG, pulsed MIG, MAG, MMA or TIG (LiveTig™) welding. The pulse function makes the Aristo® Mig 4004i Pulse suitable for advanced, spatter-free welding in aluminum and stainless steel.
ESAB's new inverter-based power source is greater than 25 percent more energy efficient than conventional welding equipment. The electronically-controlled Aristo® Mig 4004i Pulse also weighs 70 percent less than comparable units and has a footprint that is 80 percent smaller. Consequently, Aristo® Mig 4004i Pulse is easy to transport and easy to use in confined spaces. Typical applications include the manufacture of trucks, busses, trailers, off-highway equipment, trains and railway rolling stock, as well as wind turbine towers, structural steelwork, shipbuilding/offshore, and general industrial fabrication.
To help in achieving high deposition rates, the Aristo® Mig 4004i Pulse delivers a welding current of 300 A and voltage of 32 V at a 100 percent duty cycle. At a 60 percent duty cycle, these figures rise to 400 A and 36 V. The machine operates from a 380 - 460V (+/-10 percent), three phase supply at 50/60Hz, and can be powered by a generator when there is no mains supply available.
ESAB-designed synergic lines help the operator avoid globular regions between short arc and spray arc where the arc becomes unstable and large weld spatter is generated. The optimum dynamic arc control type is provided by the synergic line. The U6 and U82 machine interface options offer up to 250 pre-programmed synergic lines that set the optimum welding parameters when welding with different combinations of material, wire, and shielding gas. Sixty synergic lines are dedicated to aluminum welding, and have been developed with the experts at AlcoTec®. The U82 panel also caters to a user's own customized synergic lines.
Creep start, gas pre-flow, and hot start functions all help to provide a soft and more direct start with less spatter. The LiveTig™ start function, which electronically limits the start current to 12-15A, is included in both the U6 and U82 machine interface options. Limiting the start current to 12-15A reduces the possibility that tungsten will be transferred into the weld puddle, causing a weld defect.
Another unique feature that contributes to high-quality spatter-free welds is the QSet™ intelligent welding system that automatically fine-tunes the welding parameters "on the fly" so the operator only has to adjust the wire feed speed. QSet helps the welder quickly set optimized welding parameters using the one knob setting. In addition, SuperPulse™ (available with the U82 control panel) controls the heat input for bridging variable gaps with a spatter-free arc.
ESAB's Aristo® Mig 4004i Pulse also reduces operating costs through lower energy consumption. The power source keeps the cooling fans operating for 6.5 minutes after welding has stopped, then automatically switches to energy-saving mode. The cooling fans operate at reduced speed for welding currents up to 200 A, and at full speed for higher currents. The COOL 1 cooling unit, used in conjunction with water-cooled torches, also switches off automatically after 6.5 minutes of inactivity to reduce energy consumption and noise.
ESAB Welding & Cutting Products is a recognized leader in the welding and cutting industry. From time-honored processes in welding and cutting to revolutionary technologies in mechanized cutting and automation, ESAB's welding consumables, equipment, and accessories bring solutions to customers around the globe. For more information, visit http://www.esabna.com or call 1-800-ESAB123.