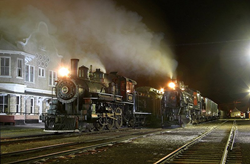 Among all railroad historic sites anywhere in North America, the Nevada Northern Railway complex at East Ely is—no question—the most complete, most authentic, and best cared-for, bar none
Ely, Nevada (PRWEB) November 09, 2014
It may not be possible to truly go back in time, but the Nevada Northern Railway Museum gets visitors pretty close with its many experiences and artifacts being auctioned off this month.
This authentic National Historic Landmark is offering up a plethora of railroad adventures and items that provide a unique insight into how the Wild West was settled. The online auction is part of the museum's push to preserve one of the nation's most beloved railroad sites.
"Among all railroad historic sites anywhere in North America, the Nevada Northern Railway complex at East Ely is—no question—the most complete, most authentic, and best cared-for, bar none," said William L. Withuhn, Curator, Smithsonian Institution, History of Technology and Transportation. "It's a precious piece of Nevada's heritage and, just as important, a step back in time into an all-important era of our nation's cultural heritage."
Among the dozens of items up for bid are opportunities to Be the Engineer of a steam or diesel locomotive, Ride with the Engineer, participate in Railroad Reality Week or the Winter Steam Photo Spectacular, spend a night at the museum staying in the bunkhouse or caboose; take a VIP tour of Rick's Restorations in Las Vegas (site of History's American Restoration), along with many other railroad adventures or treasured items such as lanterns, historic photos and more.
With the holidays around the corner, the once-in-a-lifetime experiences and relics offered through this auction make shopping for the person who has everything a little easier. While most of these items are available throughout the year, bidders and buyers will have the opportunity to purchase them at below-value prices while helping to support an important piece of American history, the living, breathing, working Nevada Northern Railway Museum.
The auction runs through December 1 at http://www.biddingforgood.com/nevadanorthernrailway. To learn more about the museum and all it offers, go to NNRY.com.
A registered National Historic Landmark, the Nevada Northern Railway Museum is a not-for-profit historical foundation whose mission is to maintain and operate the best preserved example of a standard-gauge short line railroad facility left in North America. Railroad track for the Nevada Northern Railway connected one of the largest copper mines in the country to the transcontinental routes located further north. Visitors can experience several of the original steam locomotives and passenger cars that were originally delivered to Ely over a century ago.
Tickets are also on sale now for Nevada Northern Railway's popular holiday Polar Express train rides which start Nov. 22 and run on select dates and times through Dec. 27. For more info visit NNRY.com.