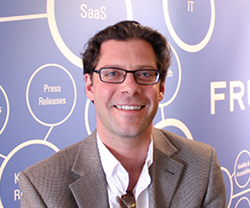 Denver, CO (PRWEB) November 07, 2014
For Mark Kranjcec, building strategic business partnerships is second nature. With over 14 years of experience in digital and traditional marketing, he will bring a vast amount of knowledge and expertise to the Fruition team as Director of Strategic Partnerships.
After receiving his Bachelor of Science in business administration, marketing and entrepreneurship from the University of Colorado at Boulder with top honors, Kranjcec started at the Daily Camera, where he moved up the ranks to retail advertising director. While he was at Daily Camera, he also served as the advertising manager of Dirt Newspaper and its website. In this role, he led a successful launch of Scripps' first Gen Y publication.
Prior to joining Fruition, Kranjcec served as the Director of Digital Solutions at Prairie Mountain Media, a division of Digital First Media comprised of 16 newspapers throughout Colorado. He also serves as a board member and marketing volunteer for B Strong Ride, an annual bicycle event that honors cancers survivors and raises money for Boulder Community Hospital Integrative Cancer Care Center and the George Karl Foundation.
"My approach to sales truly is about finding solutions," said Kranjcec. "I've always enjoyed helping companies succeed, and I am looking forward to working with Fruition's expert staff."
Kranjcec says the level of expertise at Fruition is unlike anything he has seen in the past. From the sales department to the social media team, every staff member is savvy in their area.
"I am excited to have Mark on our team, and I know he will successfully take the lead in forming long-lasting relationships in the business community," said Brad Anderson, president and founder of Fruition. "His experience and knowledge will contribute to Fruition's already talented team of web developers, designers and Internet marketing professionals."
As a result of its expanding client base, Fruition has hired several people for new positions this year. Located in the heart of the bustling Cherry Creek district, Fruition has expanded its office space in that area to accommodate the employee and client growth. For more information on Fruition as well as new career opportunities, please visit their website.
About Fruition Internet Marketing
Fruition is a Colorado-based Internet services company that specializes in website development, social, SEM, mobile applications and SEO for small business and enterprise clients. The company also provides proprietary SEO software including the Google Penalty Checker and Click Fraud Tool as well as hosting and security services and overall IT infrastructure. Ranked as the top SEO Company by SEO USA and one of the best places to work by the Denver Business Journal as well as listed on the INC 5000 list, Fruition's clients range in industries including government entities, health care, finance and ecommerce retail.