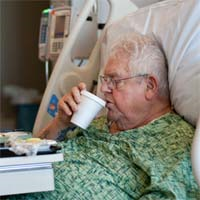 Oral EE can be administered effectively to patients with inoperable malignant mesothelioma...
Raleigh, NC (PRWEB) November 10, 2014
Research scientists in Turkey have found that a combination of cyclophosphamide and etoposide (called EE) may extend the lives of mesothelioma patients who have run out of treatment options. Surviving Mesothelioma has just posted an article on the study. Click here to read it now.
Doctors with the Antalya Education and Research Hospital in Antalya, Turkey found that EE stabilized mesothelioma in more than half of the 22 patients tested and yielded a partial response in 4 of them.
Lead author Seyda Gunduz concludes, "Oral EE can be administered effectively to patients with inoperable malignant mesothelioma who had previously received standard treatments."
The study, published in the Asian Pacific Journal of Cancer Prevention, reports a median overall survival of 28.1 months for study participants. Most mesothelioma patients do not live more than a year after diagnosis.
"If these results can be verified in larger studies, it suggests that these drugs may be a new option for inoperable mesothelioma patients whose cancer returns after chemotherapy," says Surviving Mesothelioma's Managing Editor, Alex Strauss.
To find out more about EE and how it may help mesothelioma patients, see Oral Drug Combination May Prolong Survival in Previously-Treated Mesothelioma Patients, available now on the Surviving Mesothelioma website.
Gunduz, Seyda, et al, "Oral cyclophosphamide and etoposide in treatment of malignant pleural mesothelioma", Volume 15, 2014, Issue No. 20, Asian Pacific Journal of Cancer Prevention, pp. 8843-8846. http://www.apocpcontrol.org/page/apjcp_issues_view.php?pno=6801&gubun=p&s_search=&s_paper_vol=15&s_number33=20
For nearly ten years, Surviving Mesothelioma has brought readers the most important and ground-breaking news on the causes, diagnosis and treatment of mesothelioma. All Surviving Mesothelioma news is gathered and reported directly from the peer-reviewed medical literature. Written for patients and their loved ones, Surviving Mesothelioma news helps families make more informed decisions.