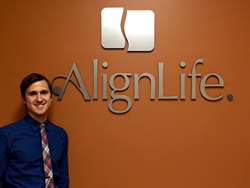 We just want to help people. That is our mission. We became chiropractors to serve others. When someone's body is not functioning at 100%, then they are not able to live their life to the fullest.
Simpsonville, Sc (PRWEB) November 09, 2014
The people of Simpsonville, South Carolina now have a local AlignLife office open to serve their natural healthcare needs. The Hamsteads have chosen to open an AlignLife office due to their belief in the importance of chiropractic care in conjunction with massage therapy, rehabilitation, nutritional recommendations and supplementation. It is the total package for someone looking to improve their overall health. AlignLife has expanded in the Greenville, South Carolina area with a mission to bring the upstate's population to a higher level of health and wellness. The Hamsteads are determined to take part in that mission here in the Simpsonville area.
AlignLife of Simpsonville feels like a family practice because the Hamsteads are strong believers in chiropractic care for the whole family. With their first child on the way, the idea of wellness for even small children has never been more important to them. They would love the opportunity to check every member of the population for spinal misalignment that can lead to other more serious problems.
AlignLife of Simpsonville is now accepting new patients. Upon making an appointment and coming in for their first visit, one can expect to have a thorough consultation, spinal analysis, and examination done on their first visit. The Hamsteads take pride in accessing each patient individually and coming up with a specific plan of care to meet that patient's needs.
If you or a loved one has ever wondered about chiropractic care, or you are looking for a new local chiropractor in the Simpsonville area, check out AlignLife of Simpsonville. Their contact information can be found below.
website: alignlifesimpsonville.com
Phone: 864-881-3693
Address: 419 SE Main Street, Suite 200
Simpsonville, SC 29681