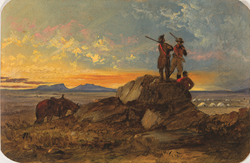 ...how can it be that the life and work of this major 19th-century...artist has remained largely unexplored?
Cody, Wyoming (PRWEB) November 11, 2014
John Mix Stanley (1814– 1872) was an ardent adventurer who traveled the West more than any other American western artist of his time. Like George Catlin—some of whose works are just around the corner from "Untitled Teton Valley Scene" in the Buffalo Bill Center of the West's Whitney Western Art Museum—Stanley explored the West in search of subjects for his North American Indian Gallery.
It turns out that the Center's newly acquired, and heretofore-undiscovered, "Teton Valley painting"—barely the size of an iPad—is most likely a preliminary study for Stanley's larger painting, "Scouts along the Teton River," now at the Gilcrease Museum in Tulsa, Oklahoma. Oddly, the scene is reversed in the sketch, and the figures are less identifiable than in the finished work. As a result, researchers surmise that Stanley may have planned to have the smaller version engraved.
Stanley had an ambitious exhibition program of his Indian Gallery. In addition, he acquired enviable exposure through illustrations used in vital government reports on western exploration—a broad platform for expression afforded few other artists of his day. So, how can it be that the life and work of this major figure in nineteenth-century American western art has remained largely unexplored?
The irreparable loss of most of his works.
On September 1, 1854, Stanley's "Western Wilds", a highly praised exhibition of a 42-scene moving panorama, opened in Washington, DC, and soon after, Baltimore, New York, and London. The panorama later vanished, though, and historians have been unable to locate it.
Tragically, on January 24, 1865, fire consumed more than 200 of Stanley's paintings, maps, and other works then housed at the Smithsonian Institution. Later that year, a fire at Barnum's American Museum in New York City destroyed the greater part of his original western collection. All told, these losses caused the eclipse of Stanley's reputation for some time in American art history.
Indeed, the Center's "Teton Valley" painting has already reintroduced Stanley to countless visitors. There is more to come, however, as the Buffalo Bill Center of the West opens "Painted Journeys: The Art of John Mix Stanley." Launching June 6, 2015, the exhibition gathers some 60 works by Stanley, including this one—christened "a little gem" by Whitney Museum staff—one of the Center's latest treasures, "Untitled Teton Valley Scene."
For more information, contact Emily Wilson, Whitney Western Art Museum Curatorial Assistant at emilyw(at)centerofthewest(dot)org or 307-578-4051, or visit the Center's website and click on the "Exhibitions" link.
___________________________________________________________________________________________________________
Since 1917, the award-winning Buffalo Bill Center of the West in Cody, Wyoming, has devoted itself to sharing the story of the authentic American West. The Center, an affiliate of the Smithsonian Institution, is now open daily 10 a.m. – 5 p.m. Winter hours begin December 1. For additional information, visit the Center's website or its pages on Facebook and Google+.