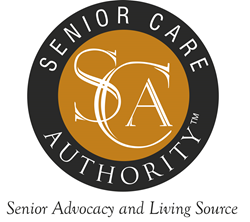 "There is a growing need for . . . a full-service approach to families seeking advice on long-term care options."
Sonoma, Calif. (PRWEB) November 11, 2014
Frank Samson, founder of Senior Care Authority, has named Marcy Baskin Managing Director of Senior Care Authority's North Bay operations (covering Sonoma, Marin, Napa and Solano counties). In her new role, Baskin will take over local, day-to-day responsibilities including helping families with assisted living and memory care placement, as well as providing exclusive elder-care management services.
Samson will focus his efforts on the expansion of Senior Care Authority nationally with its franchised operations along with continued development of the ElderCare Resource sites throughout California.
"We have built a model and system that works and has helped so many families throughout the Bay area. It's now time to support others who would like to set up their own senior placement agency in their community under the Senior Care Authority banner," Samson said.
As founder of her own elder care management company, ElderRoads, Baskin has served as an elder care manager, family coach, patient advocate, and residential placement specialist to families throughout the North Bay. Her book, Assisted Living: Questions I Wish I Had Asked, published in 2013, has helped many families navigate long-term care options for their loved ones. Baskin is a support group facilitator for the Alzheimer's Association and a faculty member for the Healthcare Navigation program at Sonoma State.
"I started this company with emphasis on a high level of customer service and integrity," Samson said. "Marcy is someone I trust to continue upholding these principles, just as she has with her own organization," he said.
New Services Offered
With the addition of Marcy Baskin, Senior Care Authority will add certain elder care management services to its offerings. Samson and Baskin have been working together for over a year to implement and fine-tune these services.
"Marcy has been working with Senior Care Authority clients who need ongoing support beyond placement. In addition, Senior Care Authority's system has supported Marcy's clients to everyone's benefit," Samson said.
"It's a natural fit," Baskin says. "There is a growing need for senior care professionals to provide a full-service approach to families seeking advice on long-term care options, whether it be assisted living or at-home care. Senior Care Authority and ElderRoads' new integrated model will meet that need."
Senior Care Authority provides personalized assistance to families seeking the best long-term care options and elder-care management services, including assisted living, memory care, and in-home care. The company serves families in the North Bay and throughout the country through its network of full-service agencies. For more information, go to http://www.SeniorCareAuthority.com or call (707) 939-8744.