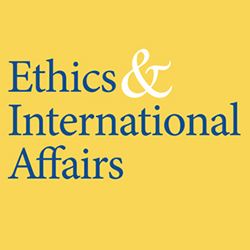 The issues addressed here are at the very heart of international relations. We hope this ebook will be particularly stimulating for researchers and students.
(PRWEB) November 11, 2014
Carnegie Council for Ethics in International Affairs and its quarterly peer-reviewed journal, Ethics & International Affairs, are pleased to announce the publication of a special collection of symposia and roundtables in honor of the Carnegie Council Centennial (1914–2014).
"Ethics for a Connected World: The Carnegie Council Centennial Roundtables" brings together views and perspectives on global issues from leading public intellectuals, academics, and policymakers. The seven roundtables explore as follows: the concept of a global ethic, the ideal of peace, the justness of war, the nuclear threat, the international rule of law, the future of human rights, and the new challenges of climate change.
"We're very proud to offer this Centennial collection to the public, and we hope that it will be a particularly stimulating volume for research and classroom use," said Council president Joel H. Rosenthal. "The issues addressed here are at the very heart of international relations. And while climate change is a relatively recent challenge, most of these essays touch on themes that have been historically important to the Council's work for the past one hundred years—and will continue to be important for many more years to come."
We are pleased to announce that, for a limited time, every special centennial roundtable and symposium will be available free, in its entirety, through our publisher, Cambridge University Press. To access this special issue, click here.
Roundtables and Contributors:
In Search of a Global Ethic
Michael Ignatieff, David Rodin, Michael Joseph Smith, Christian Barry, Nicholas Rengger, Cheney Ryan
Just War and Its Critics
Cian O'Driscol, James Turner Johnson, John Kelsay, Daniel Brunstetter, Megan Braun
Reflections on the Future of Peace
David C. Hendrickson, Akira Iriye, Nigel Young, Laura Sjoberg, Andrew Hurrell
Nonproliferation in the 21st Century
J. Bryan Hehir, Jacques H. C. Hymans, Nina Tannenwald, Ward Wilson
The International Rule of Law
Ian Hurd, David Dyzenhaus, Christian Reus-Smit, Rosa Brooks, Ruti Teitel
The Future of Human Rights
James W. Nickel, Philip Alston, Beth A. Simmons, Jack Donnelly, Andrew Gilmour
The Facts, Fictions, and Future of Climate Change
Steven M. Gardiner, Scott Russell Sanders, Paul Wapner, Clive Hamilton, Clare Palmer, Daniel Mittler, Thomas Lovejoy
About Carnegie Council
Founded by Andrew Carnegie in 1914, Carnegie Council for Ethics in International Affairs is an educational, nonprofit, nonpartisan organization that produces lectures, publications, and multimedia materials on the ethical challenges of living in a globalized world. Go to http://www.carnegiecouncil.org
About "Ethics & International Affairs"
The Carnegie Council's flagship publication, now in its 28th year of publication, publishes original essays that integrate rigorous thinking about principles of justice and morality into discussions of practical dilemmas related to current policy developments, global institutional arrangements, and the conduct of important international actors.
About Cambridge University Press Journals
Cambridge University Press publishes over 250 peer-reviewed academic journals across a wide spread of subject areas, in print and online. Many of these journals are the leading academic publications in their fields and together they form one of the most valuable and comprehensive bodies of research available today. Go to http://www.journals.cambridge.org.