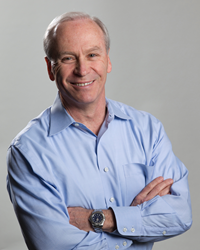 By collaborating with Nielsen Buyer Insights, 4INFO brings powerful mobile ad measurement capability to retail, restaurant and travel brand advertisers.
San Mateo, Calif. (PRWEB) November 12, 2014
4INFO, the fast-growing technology company solving the challenge of mobile attribution for national brand advertisers, today announced a collaboration with Nielsen to launch 4INFO's newest version of its unique TruView measurement for mobile ad campaigns. 4INFO is the first mobile company to use Nielsen Buyer Insights to directly measure the actual sales impact of mobile advertising campaigns.
TruView solves a problem advertisers commonly struggle with – to measure the sales impact of their mobile advertising campaigns while sourcing sales data from hundreds or thousands of retail locations, as well as via e-commerce and m-commerce. It has been nearly impossible to integrate and then tie this data to mobile ad impressions.
"By collaborating with Nielsen Buyer Insights, 4INFO brings a powerful capability to retail, restaurant and travel brand advertisers," said Tim Jenkins, CEO of 4INFO. "Advertisers can now greatly enhance measurement of their mobile ad campaigns without tying up internal data processing resources or sharing sales data outside company walls."
TruView measurement, powered by Nielsen Buyer Insights, is a simple, effective mobile ad measurement solution that:
(1) Leverages 4INFO's patented mobile technology, which enables advertisers to precisely market to more than 150 million mobile devices in 100 million U.S. households in a privacy-protected manner.
(2) Utilizes information from Nielsen Buyer Insights' comprehensive coverage of online and offline credit transactions to leverage anonymous purchase information connected to media exposure, in order to provide aggregated campaign level reports.
With TruView, advertisers can access mobile campaign reports that identify incremental sales lift and calculate Return on Ad Spend, and other key performance indicators, including buyer penetration, purchase frequency, spend per buyer, spend per transaction and share of category.
"With mobile advertising spend growing, it is increasingly important for marketers to understand the value of that investment in driving business objectives," said Nada Bradbury, SVP, Product Leadership, Nielsen. "Nielsen Buyer Insights closes the loop between ad exposure and sales transactions to help marketers make smarter advertising decisions based on actual consumer purchase behavior. We already have a strong track record in connecting the dots between actual sales and ad exposure on TV and online—we're excited to work with 4INFO to bring direct sales lift measurement to their mobile platform."
"With Nielsen Buyer Insights' comprehensive coverage of privacy-protected credit transaction data and 4INFO's ability to tie mobile ad impressions to unique households, TruView now gives advertisers and ad agencies the category and demographic insights they need to fully understand and report the effectiveness of their mobile ad campaigns, with increased measurement precision," adds Jenkins.
About 4INFO
4INFO is a fast-growing mobile technology company solving the mobile attribution challenge for national brand advertisers to measure the ROI that matters most: sales lift at the cash register. A privately held company, 4INFO's brand ad revenue tripled in 2013 over 2012 — and continues to experience exponential growth. 4INFO's patented mobile technology has tied 152 million mobile devices to 101 million U.S. households. 4INFO's flagship product — AdHaven Bullseye — enables advertisers to target consumers with the same precision as online and direct mail advertising. AdHaven Bullseye anonymously matches mobile device data to household-level purchase data providing the ability to measure actual sales results from a mobile ad spend. Launched in March 2013, 4INFO's AdHaven Bullseye has already powered mobile ad campaigns for more than 140 national brands with impressive accuracy and results: average sales increases of 7.5%, ROI averaging 382% and as high as 823%, and market share increases at the expense of competitors. 4INFO collaborates with the most trusted 3rd party data providers of purchase and lifestyle data — including Acxiom, Nielsen, and Nielsen Catalina Solutions. On the forefront of mobile innovation since 2004, 4INFO is headquartered in San Mateo, Calif., with offices in New York, Los Angeles, Chicago and Boston. Learn more at http://www.4INFO.com.
Follow 4INFO:
Website: http://www.4info.com
Twitter: https://twitter.com/4INFO
Facebook: https://www.facebook.com/4INFOInc
LinkedIn: https://www.linkedin.com/company/4info?trk=top_nav_home
Google+: https://plus.google.com/+4info/posts