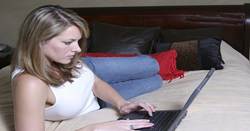 Taking a breakup too badly to the extent of distrusting private moments with the world is just plain evil.
London, UK (PRWEB) November 10, 2014
A new term has come out in a long ongoing thread of violent and objectifying acts against women, that term is "Revenge Porn." NoBullying investigates the spread of Revenge Porn and its effects on women worldwide in an article released today.
Revenge Porn is defined as the posting of nude or sexually explicit photographs or videos of people online without their consent, even if the photograph or video itself was taken with consent. A scorned lover, husband or boyfriend looks for revenge by submitting photos and videos of their estranged ex to porn websites in an act of defamation. Many websites exist for this specific type of revenge porn and it ruins lives every day.
While porn is mostly an anonymous industry and there are activists like Shelly Lubben campaigning against it, the troubling part is that most revenge porn websites allow these videos and photos to include personal information of the victim like full names and social media sites, allowing people to find and potentially stalk the victim whose pictures where unknowingly posted to these sites. A few websites will even charge a very expensive fee to have the images or videos removed. These websites leave women feeling humiliated, devastated and shamed every day.
Experts now label revenge porn as a form of sexual abuse that involves the distribution of nude/sexually explicit photos and/or videos of an individual without their consent. Revenge porn, sometimes called cyber-rape or non-consensual pornography, is usually posted by a scorned ex-lover or friend, in order to seek revenge after a relationship has gone sour.
Though men are more likely to submit revenge porn than women are, they are not the only ones who are scorning and objectifying women who choose to share their private photos and videos with someone they trust.
All of these acts of posting, sharing and hosting private photos and videos serve as a constant attack and violation of privacy that contributes to the growing epidemic of revenge porn and shaming of those who choose to take private photos and videos. Revenge porn objectifies women by using them as entertainment for man's fantasies. It also leads to "Slut shaming" from other women who feel they should have never taken the photos in the first place.
It is essential for educators and legislators and members of the community to stress that giving consent to film or tape a sexual encounter with another doesn't give them the right to share and distribute this encounter with others.
Revenge porn, or non-consensual pornography, has devastating effects for the victim. If someone is a victim of revenge porn, it is not their fault at all. While victim blaming is an ever growing and wrongly placed practice in human nature, there are places victims can turn to for help.
Ciaran Connolly, Co Founder of NoBullying says, "Revenge porn serves as a reminder that relationships can go down the drain in an instant and can turn sour in no time, but taking a breakup too badly to the extent of distrusting private moments with the world is just plain evil."
He added that parents and teachers should make a point to educate the younger generations about the sad outcome of bullying online and offline. According to Connolly, it is quite imperative to press for more firm laws condemning all acts of bullying and harassment.
NoBullying.com features many pages dedicated to parents, teens, teachers, health professionals as well as posts related to cyber safety and the latest news about law making concerning curbing Bullying worldwide as well as inspirational Bullying Poems and famous Bullying Quotes.
The website regularly updates its bullying statistics and cyber bullying statistics as they are essential to understanding how widespread the bullying epidemic is. It also regularly runs cyber bullying surveys and questionnaires to get recent updated statistics on everything related to cyberbullying.
He also added that anyone suffering from bullying in any form or way can always find advice and help on the NoBullying website – but if anyone is suffering from severe bullying or cyber bullying, the best thing is to talk to someone locally – a parent, teacher or local organization that has been set up to help with specialized councilors to deal with this topic.