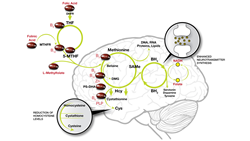 "EnLyte treats the root cause of depression-not just the symptoms." Andrew Farah, MD, Chief of Psychiatry, UNC/High Point Regional Health Systems
Sunset, LA (PRWEB) November 10, 2014
JayMac Pharmaceuticals, makers of EnLyte advanced generation folate therapy, will exhibit for the 2nd year in a row at the upcoming NEI Psychopharmacology Congress, held in Colorado Springs November 13-16. Topics will include new advances in the treatment of depression, anxiety disorders, and ADHD-all conditions for which EnLyte can be prescribed.
The APA Guidelines for the Treatment of Major Depressive Disorder, The APA Complementary & Alternative Medicine (CAM) Task Force Recommendations, and the STAR*D Study all point to the need for safer alternatives with a better side effect profile, recommending folate supplementation as a viable choice with overall general health benefits. EnLyte meets this need, and is the most complete prescription folate therapy on the market today. It is garnering a substantial following among the psychiatric community.
Presenting EnLyte at the conference will be JayMac Pharmaceuticals CEO and EnLyte co-inventor, Towny Robinson, Christy McCain, National VP of Sales, Diane Pratt, Inside Sales Manager, David Reed, Board Member-JayMac, and Angela Hall, Media & Communications, JayMac.
About EnLyte
EnLyte contains 16 mgs. Delta Folate: L-methylfolate magnesium, folinic acid, folacin, plus critical, reduced cofactors-b1, b2, b3, b6, b12, betaine, in addition to ps gold omega 3's, zinc, magnesium, and vitamin C. EnLyte is FDA-regulated, pregnancy category A, and covered by many insurance plans nationwide with an average copay of $44/month. To learn more, visit http://www.EnLyteRx.Com.