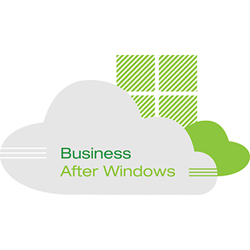 Conference offers cutting-edge presentations available with "Anywhere, Any Device" access
Tarzana, California (PRWEB) November 10, 2014
Starting today, registered attendees can now visit the Business After Windows website to view cutting-edge presentations led by the conference's all-star lineup of speakers, including top technologists and visionaries from Oracle, GENBAND, Huawei, Converge, and more. Registration is free. Join them at the first-ever conference dedicated to exploring where the cloud is headed over the next five to ten years and how these changes will impact business and society alike.
Each presentation is approximately 30 minutes long, with topics ranging from 'Desktop Infrastructure in a Multi-Screen World' to a discussion on the vital role that cloud application markets play in creating the ideal personal workspace. Starting today, attendees can view each of these presentations and submit questions online for the speaker Q&A session which will be held on November 11th. Questions can also be submitted live on November 11th via Twitter with the hashtag #thenewcloud. Business After Windows offers free attendance to anyone interested in discussing the future of the cloud.
From the presentations to the Q&A, this entire conference is cloud-based. To reserve a spot or to learn more about the Business After Windows conference, explore our website, follow us on Twitter, or like our Facebook page.
ABOUT INFOSTREET
InfoStreet is a cloud app provider that offers SkyDesktop, a free patent-pending cloud desktop; SkyAppMarket, an app marketplace where a business can choose from the best cloud apps in the market; and SkySingleSignOn, a federated login solution and network management tool. Together they provide all the files and applications a company needs to run their business in the cloud.
Try SkyDesktop and SkyAppMarket by visiting https://www.skydesktop.com or by calling 1-866-956-5051 for more information.
Softletter is a twice-monthly industry newsletter that reports on business issues and trends in software publishing. Written for an audience of senior level industry executives, product managers, and key industry consultants, Softletter tracks new marketing and distribution tactics, company operations, finance, pricing models, product management, and emerging technologies in the desktop, enterprise, Open Source and Software as a Service (SAAS) market segments.