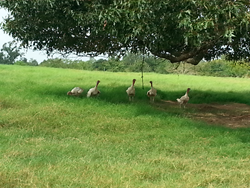 When it comes to food, turkeys are just like people. They are what they eat.
Powderly, TX (PRWEB) November 11, 2014
If the goal is a very special turkey this Thanksgiving, the most coveted turkey in the land is a Pastured Turkey. They are noted for better nutrition, a genuine turkey favor, and a firmer texture.
In turkey jargon "pastured" means the turkeys had been allowed to roam during the day in large grassy pastures. This is unlike commercially produced turkeys, including those labeled "organic" and "free-range." Of the 46 million turkeys served this Thanksgiving, it is estimated that far less than 1% will be pastured.
Very few farmers in America raise flocks of these noble birds on pastures. Of those that do, most market their processed turkeys right off the farm to local buyers. There are a few ranches that raise enough to market them over the internet. Slanker Grass-Fed Meat does just that and every November it ships premium pastured turkeys to discriminating connoisseurs and health conscious clients all over the nation.
Ted Slanker, owner of Slanker Grass-Fed Meat, says, "When it comes to food, turkeys are just like people. They are what they eat. Therefore there are only three turkey classifications that matter: wild, conventional, and pastured.
"Wild turkeys eat grass, leaves of bushes and various plants, small rodents, bugs, grubs, snakes, lizards, amphibians, nuts, berries, and whatever else they think is tasty.
"The other end of the spectrum is the mass-produced conventionally fed turkeys everyone knows. Typically mass-produced turkeys are fed a diet of 65% corn, 30% soy, and 5% minerals and vitamins. The growers often claim their turkeys are 'vegetable fed.'
"In the middle are the pastured turkeys. During the day pastured turkeys roam in large pastures and wooded areas eating what wild turkeys eat. At night they are brought in for protection against the elements and predators where they receive a typical turkey ration. Additionally many growers provide fresh cut grass, alfalfa pellets, and even flaxseed or fish meal in addition to the grain."
Pastured turkeys are raised in very small flocks. They grow slower and there are losses from predators, storms, and injuries. Small numbers, greater losses, and slower growth rates significantly increase the cost of raising these big birds. But the advantages for the consumer are significant. Compared to grain-fed turkeys, pastured turkeys provide measurable improvements in nutrition and flavor. Pastured turkeys are more nutrient dense. They are stronger flavored almost like a wild turkey. Their meat is slightly darker. Because pastured turkeys eat grass, leaves, grass-eating bugs, and other wild creatures they are also higher in Omega-3 fatty acids.
USDA labeling laws are structured against the pastured poultry farmer. The USDA recognizes Free Range as a label but does not recognize Pastured as a label. Therefore pastured turkeys are required to be labeled as Free Range even though they are way beyond Free Range. Free range are fed like all conventionally raised turkeys. Since only what a turkey eats determines its nutrition and flavor, consumer perceptions of free range do not match reality.
Many consumers also associate heritage turkeys with pastured turkeys and white turkeys with conventionally raised turkeys. But often that is not the case. There are many conventionally fed, mass-produced, free range heritage turkeys offered in high end stores. On the other hand there are many farmers all across America raising small flocks of white turkeys on pastures. Discriminating consumers have learned that the color of a turkey's feathers will not have an impact on its nutrients, favor, and texture. Only what the turkey eats does that.
So how do consumers get to know the difference? Slanker says, "There is only one way. They must ask the grower and hope he tells the truth. There are many turkey farmers who know the perceptions consumers have when they see the Free Range label. So they post pictures on their websites of turkeys out on grass. You will have to look long and hard to see their pictures of the large dirt feedlots where they raise their free range mass-produced turkeys (heritage or white) that they sell all across America.
"The bottom line is that unless a consumer is a hunter, they only have two choices for their Thanksgiving turkey. It's either a conventionally fed (heritage or white) turkey or a pastured turkey. Pastured turkeys are far more expensive. Conventionally fed turkeys (free range, organic, hormone free, vegetable fed, heritage, white, or whatever other description) are basically all the same and they are inexpensive."
Conventional turkeys are available in all grocers, many health food stores, and off the internet. Many are sold as loss leaders by major grocers. Pastured turkeys are usually only available from local farmers and very specialized internet sites such as Slanker Grass Fed Meat.