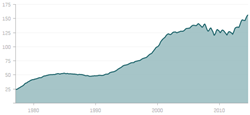 One factor that may be contributing to the local strength of the city's real estate is jobs.
Chicago, IL (PRWEB) November 09, 2014
Peoples Home Equity, a mortgage lender that has a branch office in Denver, has noticed that local real estate prices remain in a solid uptrend. In addition, Denver real estate prices have historically shown to be low in volatility which is attractive for those looking to buy or invest in a market.
According to the latest S&P/Case-Shiller home price index, the Denver index increased by 0.5% to 156.17 in August by 0.5%. The index is up 6.3% year-over-year which may not sound like a lot, but it's impressive when considering that the average Denver index change on a year-over-year basis in August has been just 3.8% for the past 5 years (6.3% this year, 10.1% 2013, 5.5% 2012, -1.6% 2011, -1.2% 2010). In August 2006, the index peaked at 140.28 and subsequently troughed in February 2009 at 120.21. With just a -21% decline from peak to trough during the housing crisis, Peoples Home Equity has identified Denver has a low volatility area in terms of index/price performance.
As shown in DQnews.com's Denver Area Home Sale Activity page, six downtown zip codes in Adams County that had particularly impressive median home price and sale performance in the 3rd quarter of 2014 vs the 3rd quarter of 2013. Overall Adams County experienced a 3rd quarter year-over-year median price increase of 10.2% to $219,900. Home sales increased 12.7% to 2,889. The best performing zip code of the county was 80102 (Bennett, CO) which experienced a median price increase of 60.7% yet only 30 homes were sold in the area which was -9.1% lower than the 3rd quarter of 2013. Zip code 80019 (Aurora, CO) increased by 145.5% while median home prices increased just 2.1%. Zip codes closer to downtown Denver experienced a more balance increase of median home price and sales. Zip codes 80221 and 80229 showed median price increases of 16.2% and 17.8% and sales volume increases of 31.8% and 22%.
One factor that may be contributing to the local strength of the city's real estate is jobs. Denver's unemployment rate is 5.1%, this is noticeably better than Chicago (7.4%), or Los Angeles (7.1%), or New York (5.8%), or the national average of 5.8%. Another factor, which is strongly affecting the rest of America, is the shortage of housing inventory available for sale. This means the market is competitive and the likely hood off prices continuing to rise is higher. In a competitive market like Denver, Peoples Home Equity encourages first time home buyers to enable themselves to bid on a property fast by getting approved for a home loan. First time home buyers should be weary of cash buyers, being pre-approved for a home loan not only filters their property search but also gives them the ability outbid a cash buyer if necessary.
Contact a Peoples Home Equity loan officer today at: 262-563-4026.