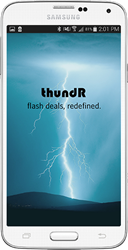 Seattle, WA (PRWEB) November 10, 2014
Seattle based startup thundR announced the launch of an innovative, new personalized mobile shopping platform combining the advantages of geo-location with premium daily deals. The Android version of the mobile app is now available in Google Play Store with an Apple OS scheduled to launch in first quarter 2015.
thundR has pioneered a "personalized" shopping algorithm engine that precisely understands the consumer's real shopping needs based on their age, interests, social media interactions and location. thundR delivers one unique deal daily to consumers.
"Personalization is what makes thundR unique. Delivering the right product to the right person, at the right time and location, and at a screaming price is going to become the next trendsetter for mobile shopping," said thundR CEO Shan Sundaram "We are ahead of the game with location, contextual and personalization," he added.
Sundaram said the current daily deals and online shopping industry leave consumers frustrated, including:

No personalized deals, lack of targeting, poor timing, unattractive pricing and no geo-location
Constant barrage of daily deal emails and promotional pinging
Oversupply of low-quality daily deals that are currently the bane of the industry
Online shopping that is too difficult with too many choices.
"By offering only one personalized premium deal per day, we're confident consumers will appreciate these high-value daily deals tailored to their interests and their location," Sundaram said. "It is a whole new exciting prospect for both consumers and merchants."
Sundaram said thundR hopes to capitalize on the $40 billion US mobile e-commerce market, poised to hit $50 billion in sales in 2015.
The thundR team includes Sundaram, a former Microsoft Product Manager with advisors Marc Horne, founder of DailyDealBuilder.com, and Darrell Ellens, President of the Daily Deal Industry Association.
Consumers can now download the Android version in Google Play Store: https://play.google.com/store/apps/details?id=com.thundr.flashdeal&hl=en
For further information, please visit http://thundr.mobi/ or email info(at)thundr(dot)mobi Contact: Marc Horne, Strategic Advisor, thundR. Telephone (404) 314-9273, info(at)thundr(dot)mobi.