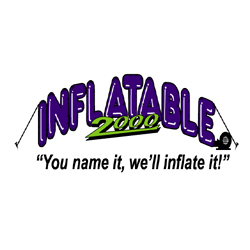 You name it, we'll inflate it!
Los Angeles, CA (PRWEB) November 11, 2014
Inflatable 2000, Inc a leading designer and manufacturer of inflatable slides, Bounce Houses and promotional products, will unveil the world's tallest inflatable wet/dry slide at this year's International Association of Amusement Parks and Attractions (IAAPA).
At this year's International Association of Amusement Parks and Attractions (IAAPA) Expo, Inflatable 2000® and Zero Shock® will team up to unveil the world's tallest inflatable wet/dry slide. Measuring just over five stories tall, this gigantic slide combines two heart-pounding rides in one unit to satisfy everyone's inner adrenaline junkie. Featuring a 30-foot vertical drop on one side and the insanely fast VertiGo Super Slide on the other, this beast of a slide will peak the interest of even the biggest thrill seekers. Both finish off with a "kicker" that launches the rider into the air before softly landing onto the Zero Shock™ air bag.
Safety is a priority and the proof is in the design. After years of perfecting, Inflatable 2000 is now incorporating Zero Shock's® patented air bag system into its units. Originally created for dramatic Hollywood stunts and trapeze artists, this revolutionary air bag system delivers less impact at greater heights and speeds allowing designers to go beyond backyard bouncy castles and enter into a world of true exhilaration. Removable SureTread stairs are made of impervious ABS plastic to withstand thousands of trampling feet before showing wear. Gone are the days of slippery foam stairs that degrade quickly.
The magnitude of the "mobile tsunami" may seem intimidating but the addition of several new technologies ensures an effortless set-up and tear-down. The Cylindrovator™ base design inflates and deflates the unit in less than thirty minutes with the use of constant air blowers. The EZ Drain System® redirects pooled water for fast, easy draining. This super inflatable slide is perfect for carnivals, concerts, festivals, big parties and other outdoor events and applications.
Inflatable 2000, Inc® was founded by Steve and Meril Gray in 1993. Over the past two decades, the company has grown from a small inflatable manufacturing operation into an industry recognized name in custom inflatables and innovative design, daring to take inflatables beyond expectations. From amusement parks to businesses to special events around the globe, their inflatables can be found everywhere. "You name it, we'll inflate it," says Steve Gray, CEO.
Founded in 1918, the IAAPA is the largest international trade association for permanently situated amusement facilities worldwide. The organization represents more than 4,500 facility, supplier, and individual members from more than 97 countries. The IAAPA Attractions Expo will take place in Orlando, FL from Monday, November 17th through Friday, November 21st. The Expo includes a conference and trade show. Inflatable 2000 will be attending the trade show where it will unveil their mega 30-foot slide.