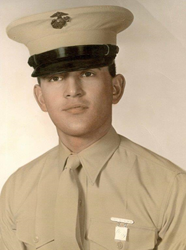 "We are fighting a new war against an old enemy—pain, side effects, and addiction
Rhinebeck, NY (PRWEB) November 11, 2014
Veterans share two key attributes in common: service and devotion to their country. And many also have something else in common: pain issues.
Lou Paradise, president and chief of research at Topical BioMedics, Inc., Rhinebeck, NY, is a decorated Marine Corps veteran who served two tours of duty in Vietnam as a combat/rescue helicopter medivac crew chief. He developed safe, natural Topricin Pain Relief and Healing Cream to heal his own case of severe bilateral carpal tunnel and trauma injuries sustained as a result of his military duties. He is now on a mission to help as many U.S. veterans as possible live a life without pain or the harmful side effects of over-the-counter chemical pain pills and addictive opioids, and is proud to offer Topricin to them for a lifetime discount of 30% plus free shipping.
AT-RISK VETERANS: DESERVING ASSISTANCE
Studies indicate that, along with suffering post-traumatic stress disorder (PTSD), veterans of the wars in Afghanistan and Iraq are twice as likely to be prescribed opioid and other narcotic pain medications for dealing with their pain. These veterans are vulnerable to abusing the drugs and become addicted. This tendency places them at risk of acting violently—harming themselves or others—as well as increasing suicidal thoughts and actions.
Topricin has been shown to help reduce the need and/or dependency on all classifications of oral pain pills, thereby helping to address nation's epidemic addiction to opioids as well as contributing toward building a sustainable healthcare system. "I never thought any good could come from my severe pain issues, but because of my suffering I was able to develop Topricin and now help my fellow brothers and sisters who have served our nation," says Mr. Paradise.
HEALING TECHNOLOGY
Mr. Paradise, who is also a pain management expert, explains that "Pain is a signal from the body alerting us to the fact that there is problem, and healing is the body's way of fixing the problem. Sometimes it needs assistance in stimulating and supporting this natural healing process."
Topricin's homeopathic biomedicines match the molecular size of the body's natural healing chemistries. The medicines are readily absorbed through the skin and deep into the affected area. The combination of medicines supports the healing process by stimulating lymphatic drainage of toxins and fluid build-up from the affected area, while at the same time relaxing the capillaries to restore oxygen-rich blood flow to the cells. The pain relief is the result of enhancing the healing process so the body can address and repair the cause of the pain.
ONGOING INITIATIVE TO ASSIST VETERANS
"We owe it to our nation's veterans to provide for their physical, emotional, spiritual, and financial needs. Treating war wounds and chronic pain therapy should include physical and other therapies—not just pain pills. And, as well as medical treatment, they should have ready access to emotional therapy and support, behavioral therapy, family counseling and career training."
Topricin is changing the way we treat pain, and Mr. Paradise is proud to say that his product is now used at VA medical centers and top hospitals across the nation. Topricin's natural medicines stimulate healing so the body can repair the damage in joints, nerves, and muscles that is causing the pain. The results: improved range of motion, function, and mobility combined with pain relief—which means veterans can start experiencing a better quality of life.
Honoring veterans year-round, Topical BioMedics, Inc. offers 30% plus free shipping on all orders to veterans with the code VET30.
ABOUT TOPICAL BIOMEDICS:
20 years in business and a Certified B Corporation, Topical BioMedics is a research and development leader in topical patented natural biomedicines for pain relief. The company's flagship product, Topricin® Pain Relief and Healing Cream, was introduced in 1994 and is now a leading natural therapeutic brand. A combination biomedicine formula, Topricin has been awarded a patent for the treatment of pain associated with fibromyalgia and neuropathy, and was listed among the Top 100 Green Products of 2012 by Healthy Holistic Living.
The Topricin family of natural healing products also includes Topricin Foot Therapy Cream, specially formulated to treat painful foot and ankle issues and conditions, and Topricin for Children, which received the Parent Tested Parent Approved Seal of Approval (with 5% of sales donated to pediatric cancer foundations). Made in the U.S.A., all Topricin products are federally-regulated over-the-counter medicines with no known side effects, no parabens, petroleum, or other harsh chemicals, no grease, and no odor.
For over 20 years, the company has assisted hundreds of thousands of people suffering with pain and those addicted to painkillers to achieve fully restored and robust healthy living. Unfortunately, millions of people continue to suffer in pain, with many experiencing the hazardous side effects of OTC chemical pain pills or negative effects of narcotic Rx painkillers—an epidemic that turns the lives of American families upside down and is undermining the very fabric of our country. Because of the company's experience in addressing these challenges, it has launched its "Get Relief, Give Relief" initiative: for every Topricin product purchased directly from the company, it will donate a tube of Topricin to a free pain clinic or charitable organization. To participate in "Get Relief, Give Relief," order from http://www.topricin.com or call 1-800-LES-PAIN (537-7246).
Topricin is available in independent pharmacies, natural food and co-op stores nationwide, including Whole Foods, Sprouts, Pharmaca, The Vitamin Shoppe, Fred Meyer, Wegmans, CVS (Foot Care Section), Walgreens (Diabetic Section), and other fine retailers, as well as directly from the company.
For more information visit http://www.topricin.com