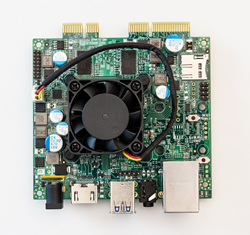 The Gizmo board was an innovative step for providing x86 architecture to the open-source community. The Gizmo 2 further revolutionizes the market.
Los Angeles, CA (PRWEB) November 11, 2014
The Gizmo 2 performance is forging new paths in the open source board market, providing 85 GLOPS while drawing only 9 watts, and with industry leading features such as an HDMI dedicated port, extra PCIe, SD card slot for added mass storage and nonvolatile memory, an mSATA port for connecting SSDs, and a microSD card slot, there's a tremendous amount of value at US$199. The Gizmo 2 also includes Linux from Timesys and a coreboot®-based SageBIOS™ OSP from Sage Electronic Engineering.
"We're very excited about our continuing partnership with GizmoSphere," noted Symmetry President Ken Davison. "We've seen some great projects powered by the original Gizmo board, and we're looking forward to seeing what people do with Gizmo 2."
"The Gizmo board was an innovative step for providing x86 architecture to the open-source community," said David Beck, Symmetry Vice President of Marketing. "The Gizmo2, with its powerful x86 G-SoC architecture on a small 4x4 inch SBC, further revolutionizes the market."
Symmetry will be stocking the Gizmo 2, and it is currently available for pre-orders through Symmetry's ecommerce site SemiconductorStore.com.
For more information:

About GizmoSphere
GizmoSphere is an independent initiative created to meet the open source development needs of embedded developers around the globe. It serves as a resource center providing documentation, downloads, schematics, news and other information pertinent to the embedded development community. GizmoSphere offers Gizmo 2, which brings the power of a supercomputer and the I/O capabilities of a microcontroller to the x86 open source embedded development community in one convenient, affordable package.
About Symmetry Electronics
Founded in 1998, Symmetry Electronics Corp. is a supplier-authorized, global distributor specializing in the distribution of wireless, video, and embedded semiconductor products. Symmetry provides sales, logistics, design, and manufacturing support from its world headquarters in Southern California, local field offices, and a robust ecommerce and einformation website, http://www.SemiconductorStore.com. Symmetry Electronics is ISO9001:2008 certified and supports its customer base with factory trained FAEs, deep inventory, and product selection expertise. For more information on Symmetry Electronics or to view their complete line card, visit http://www.SymmetryElectronics.com.