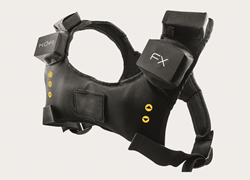 The ability to actually feel the game environment is something that gamers have been demanding for years, and we're confident that KOR-FX seamlessly delivers the tactile immersion that they are seeking." - Immerz CEO, Seth Fandetti
Cambridge, M.A. (PRWEB) November 12, 2014
Immerz, Inc., an award-winning developer of cutting edge products and technologies, today announced the immediate availability of its wireless KOR-FX Gaming Vest following a successful Kickstarter funding campaign which realized 245% of its initial goal. Retailing for $150.00, KOR-FX is now available for immediate shipment both domestically and internationally and can be purchased at http://store.korfx.com/.
The wireless KOR-FX Gaming Vest uses proprietary acousto-haptic 4DFX technology to transform game audio into pinpoint high-definition feedback which allows gamers to actually feel the in-game environment for a more immersive gaming experience. The KOR-FX Gaming Vest turns the player's chest cavity into an instrument that echoes game audio throughout the torso with extremely accurate magnitude and directionality. Multiple adjustable haptic filters and control settings allow gamers to fine-tune sensitivity of environmental feedback to customize their gaming experience. The KOR-FX Gaming Vest creates a new level of in-game situational awareness and, when combined with the latest gaming or virtual reality technologies, delivers the tactile component of a completely immersive experience.
Designed as a plug-and-play peripheral for gaming consoles, PCs, tablets, smart phones, and almost any device with a standard 3.5mm audio output port, the KOR-FX immersive experience also extends beyond gaming to movies, music and other media. KOR-FX connects to the player's gaming or audio system via a wireless dongle, allowing users to move freely. The lightweight, adjustable vest is constructed with the highest-quality materials, and designed to fit most body types.
"After more than five years in development, and with the amazing support of the Kickstarter community, I can't express how excited we are to be able to deliver KOR-FX to the gaming and virtual reality communities in time for the holiday season," said Immerz CEO, Seth Fandetti. "The ability to actually feel the game environment is something that gamers have been demanding for years, and we're confident that KOR-FX seamlessly delivers the tactile immersion that they are seeking."
To assist in the initial connection and set-up of KOR-FX, the company provides detailed walk-through tutorial videos that help ensure gamers of any skill level can experience this new level of immersive gaming. While KOR-FX is ready to use right out of the box, some of the more intricate adjustments and game-specific filter preferences have already received significant discussion on the KOR-FX forums.
For more information on KOR-FX or to purchase the Gaming Vest, please visit: http://korfx.com/
About Immerz, Inc.
Based in Cambridge, Massachusetts, Immerz, Inc. is an award-winning developer of cutting edge products and technologies. Founded in 2009, Immerz has been refining its patented acousto-haptic technology which powers its immersive entertainment and communications devices including its flagship KOR-FX Gaming Vest. For more information about Immerz and KOR-FX please visit: http://korfx.com
Media Contact:
Zach Heath, Engage Communications
Email: zach (at) engagecoms.com
Phone: (401) 559-7350