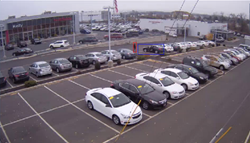 Eyewitness has been instrumental in arming us with the tools needed to drive greater sales, internal accountability, and highly-secure environments at each of our locations that hold over $1 million in asset inventory each.
Hanover, MD (PRWEB) November 11, 2014
Eyewitness Surveillance (Eyewitness), an industry leader in remote interactive video monitoring, today shares key results that their custom, all-inclusive security and surveillance solutions have delivered to Kelly Auto Group. A rapidly-growing automotive dealership, Kelly Auto Group is focused on providing top service to customers in a trusted and value-driven environment across Pennsylvania's Lehigh Valley since its founding in 1967.
To increase the dealership's growth potential, Kelly Auto Group was in need of a one-stop, all-inclusive solution that could:

Secure the dealership's more than $1 million in inventory assets (at each location);
Deliver complete, effective coverage of Kelly Auto Group's six locations;
Deliver a surveillance system to better monitor its car lots both during business hours and overnight;
Have the ability to effectively track traffic control at the dealership locations throughout the day; and
Provide a robust forecasting system to accurately project trends for the busiest days, as well as traffic flow, among others, to optimize service, sales, and advertising methods and strategies.
"We are dedicated to generating immediate value to automotive dealers by designing specialized solutions to address both their security and operational needs," said Eyewitness CEO, Rush McCloy. "Based on Kelly Auto Group's goals and objectives, we designed and installed the system, and continue to refine it as their needs evolve. We are focused on protecting their assets, helping them understand their operations, and helping to drive more business."
Since partnering with Eyewitness, Kelly Auto Group has generated measurable results, including:
Significant reduction of operational costs, including asset loss, which totaled over $20,000 in one year alone – brought down to $0 after partnering with Eyewitness;
An 11% reduction in annual insurance premiums through more efficient monitoring;
Greatly improved customer satisfaction stemming from a more responsive, efficient sales team; and
A marked increase in car sales, totaling several hundred over the previous year, aided by the increased responsiveness, tracking, and accountability efforts enabled by the total-coverage, 24/7 monitoring infrastructure now in place.
"Our relationship with Eyewitness over the past year and a half has been mutually beneficial to both of our organizations as we continue to grow and achieve new heights of service and business success," said Dan Moyer, Fixed Operations Director/Partner at Kelly Auto Group. "The Eyewitness team has been instrumental in arming us with the tools needed to drive greater sales, internal accountability, and highly-secure environments at each of our locations that hold over $1 million in asset inventory each, through their professional approach, in-depth knowledge of our industry, and user-friendly solutions. We look forward to what the future holds in our partnership together!"
About Eyewitness Surveillance
Since its founding in 2004, Eyewitness Surveillance has established itself as a leader in remote interactive monitoring, providing innovative and cutting-edge security and operational solutions for mid-size and large car dealerships, metal recycling yards and a variety of other fixed industrial facilities across the country. Eyewitness has a state-of-the-art central station and its services help clients prevent theft, inventory damage and false claims without the need for onsite guard services. The key differentiator for Eyewitness is that its products and services extend beyond pure security into operations. Using sophisticated algorithms, analytics can be created from data captured on Eyewitness's state-of-the-art cameras that can then be used to measure customer foot traffic and employee behavior, improve customer responsiveness, drive sales and manage assets. For more information on Eyewitness and its services, please visit http://www.eyewitnesssurveillance.com. Also follow Eyewitness on Facebook, Twitter, and LinkedIn.
About Kelly Auto Group
The Kelly Auto Group has been doing business in the Lehigh Valley since 1967 and has delivered over 100,000 vehicles. With eight franchises and over 70 models of new cars and trucks, Kelly Auto Group offers the greatest selection of cars, trucks, SUV's, and Crossovers, across their service area, along with a value-driven, expert, and responsive customer service experience. For more information about Kelly Auto Group, please visit http://www.kellycar.com.