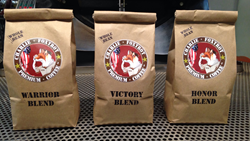 On Veterans Day, we're proud to recognize Fallen 15 as a new beneficiary from sales of Charlie Foxtrot Coffee. - Greg Ubert, Crimson Cup Coffee & Tea
Columbus, Ohio (PRWEB) November 11, 2014
Ohio coffee roaster Crimson Cup Coffee & Tea and Charlie Foxtrot Group have named a new beneficiary from sales of Charlie Foxtrot Coffee, a patriotic coffee brand honoring the service of U.S. military service personnel, veterans and their families.
"On Veterans Day, we're proud to recognize Fallen 15 as a new beneficiary from sales of Charlie Foxtrot Coffee," said Greg Ubert, Crimson Cup founder and president. For each $10 bag of Charlie Foxtrot Victory Blend (House), Warrior's Blend (Dark Roast) and Honor Blend (Decaf), Fallen 15 will receive a $1 donation.
Earlier this year, Crimson Cup joined forces with Charlie Foxtrot Founders Alvin E. Burzynski and Rick Isbell to launch Charlie Foxtrot Coffee. As disabled veterans themselves, the Charlie Foxtrot co-founders created the patriotic coffee brand as a way to support, honor, and thank America's warriors, veterans and their families for their service. They teamed with Crimson Cup because of the quality of its handcrafted coffee and the company's involvement with military and veterans groups.
Based in Columbus, Ohio, Fallen 15 was created to honor and celebrate the lives of fallen Ohio service members who fought the wars in Iraq and Afghanistan. The nonprofit organization offers scholarships to veterans and family members and organizes races and other events to honor those who have fallen. Its flagship event is a unique, 15k race in which a fallen service member is represented by each kilometer. Fallen 15's inaugural 15-kilometer race is scheduled to run through downtown Columbus on Sunday, May 24, 2015.
Charlie Foxtrot Coffee is available online on the Crimson Cup and Charlie Foxtrot Coffee websites and through veterans support groups and events.
Giving back to U.S. troops and veterans is an ongoing effort for Crimson Cup, which donates coffee to soldiers serving overseas. "The Charlie Foxtrot coffee program offers one more way we can express our support and gratitude to those who protect our freedom," Ubert said.
About Crimson Cup Coffee & Tea
Since 1991, Crimson Cup Coffee & Tea has hand-roasted specialty coffee in Columbus, Ohio and taught independent business owners how to be successful through its coffee shop franchise alternative program. Sustainably sourced Crimson Cup coffee is available through a network of more than 350 independent coffee houses, grocers, college and universities, restaurants and food service operations across 28 states, as well as the company's own Crimson Cup Coffee House in the Columbus suburb of Clintonville. For more information, visit http://www.crimsoncup.com.