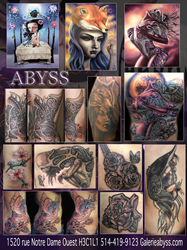 Montreal's cultural hot spot for Art and Tattoo.
Montreal, Quebec (PRWEB) November 13, 2014
Galerie Abyss is the new top tattoo Montreal art scene working in contemporary genres such as pop surrealism, graffiti, underground and tattoo culture inspired art. Located in the prime Griffintown area of Montreal, Gallery Abyss launches its all new "Kick Flip" major group show, which will feature 45 of Montreal's active artists. The Vernissage will be held November 15th at 7pm. Abdala Kaufmann, who mysteriously found herself in the possession of unused skateboard decks, inspired the show. Always wanting to have painted some herself, she acquired Montreal's forefront group show curator Pascal Leo Cormier to organize the exhibit. Skate board art has an interesting aspect which mixes athleticism with artistic expression. Often the art on the skateboard is of high importance to the skater, choosing designs that relate to themselves and reflect their individualism.
Artists in attendance are Chris Austin, MC Baldassari, Jimmy Baptiste, Alexandra Bastien, Matthew Belval, Jonathan Crap Bergeron, Jason Botkin, Eric Braun, Sandra Chevrier, Jean-Michel Cholette  Clockshovel, Mathieu Connery, Pascal Leo Cormier, Andrew Da Silva, Andre Demers (Art Vader), Jono Doiron, Chris Dyer, Francois Escalmel, Adida Fallen Angel, Jean-Pascal Fournier, Sebastien Gaudette, Mos Geez, Philomene Julien, Abdala Kaufman, Jean-Francois Labelle,  Emmanuel Laflamme, Adeline Lamarre, Edith Lebeau, Bernard Leduc, Alexandra Levasseur, Alice Dans La Lune, Etienne Martin, Melsa Montagne, Philippe Morbidique, Catherine Morin, Nicolas Nabonne, Frederick Ouellet, Roxy Peroxyde, FranklePirate, Luc Poudrier, Marie-Eve Proteau, David Samson, Gabrielle Laila Tittley, Dave Todaro, Zoltan Veevaete, VINCE, Sophie Wilkins, Cedric Wincke. The exhibition will run November 15th through to the 25th of December 2014. To keep up with future group and solo exhibitions by Montreal artists, be sure to like the Facebook page Galerie Abyss.
In fusion with the fine art Gallery Abyss also runs a full time tattoo Montreal art studio. Resident artist Abdala Kaufmann's tattoo art is inspired by her work as a painter and digital artist. She studied fine arts at Dawson College and Concordia University, preferring to focus on highly detailed realistic imagery. Her colourful palette on canvas and attention to detail are her favorite aspects to integrate when designing custom tattoo art. She specializes in both colour and black and grey work, and enjoys the technical challenge that cover-up tattoos demand. Not ready to make a life commitment for a tattoo? No problem. The studio offers temporary tattoos with the use of Jagua ink, a non-toxic fruit extract from Panama that stains black and can last up to 2 weeks. For more information on art expositions or tattoo inquiries please contact Gallery Abyss for the Best Personal Consultation through her website and Facebook page! She is also trained for the technical challenge that a good cover-up tattoo demands. At Gallery Abyss, health care is top priority. Trained in biological science, blood born pathogens and cross contamination, the tattooist understands the risks involved. Therefore all equipment used is sterile and disposable for the client's maximum protection.