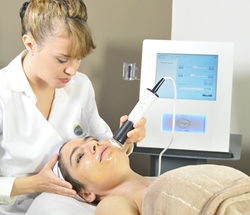 The Pollogen LEGEND and the Ultrasound addition to the geneO+ platform are the latest examples of Pollogen providing the market with winning technologies and treatments
Tel Aviv, Israel (PRWEB) November 11, 2014
Pollogen Ltd. a global leader in the medical aesthetic market announced that it will debut at COSMOPROF Asia Hong Kong 2014 its Ultrasound upgrade to the geneO+ and the new Pollogen LEGEND.
The geneO+ is now available with Ultrasound that together with OxyGeneo creates the optimal environment for the absorption of essential nutrients. OxyGeneo technology, delivers three effective treatments simultaneously: exfoliation, infusion, and oxygenation. geneO+ combines 3 technologies for the ultimate super facial: OxyGeneo, Ultrasound and TriPollar. TriPollar is patented and clinically proven technology using RF energy for wrinkle reduction, skin lifting and tightening results. The geneO+ is the only one-stop facial treatment platform delivering unparalleled results for skin rejuvenation, wrinkle reduction, and skin tightening results.
The Pollogen LEGEND is an advanced medical aesthetic system incorporating the leading industry technologies: VoluDerm™ HE, a micro-needle RF technology, and TriLipo® using non-invasive RF energy and Dynamic Muscle Activation (DMA). The combination of these technologies provides effective dermal volumizing, texture improvement and body sculpting without pain or downtime.
Cosmoprof Asia in Hong Kong is one of the largest beauty industry exhibitions in Asia taking place Nov 12-14. Attendees are invited to come by the Pollogen booth 3E-K2B and learn what it means to get the ultimate super facial.
Mr. Amichai Bar-Nir Pollogen's CEO commented that "Pollogen is dedicated to genuine technology innovation. We are continuously listening to the demands of the market and developing products that give superior results and offer real business value for our partners. The Pollogen LEGEND and the Ultrasound addition to the geneO+ platform are the latest examples of providing the market with winning technologies and treatments."
About Pollogen
We believe in constantly challenging ourselves to create the most advanced, effective medical aesthetic technologies and solutions. We believe in thinking differently.
In everything we do, we take a customer-centric approach by making our products user-friendly, safe and convenient. At Pollogen there is no such word as "done"; we continually perfect our solutions to provide treatments that are pleasant and effective. We believe in finding ways to develop technologies that work with the body's natural mechanisms so beautiful results are generated from within.
Pollogen is the developer and manufacturer of six revolutionary technologies under the industry premier brand names OxyGeneo™, Hybrid Energy™, VoluDerm™, TriPollar®, TriLipo® and TriFractional™. We offer a full line of clinically-proven, safe and effective, non-invasive anti-aging facial and body contouring treatment platforms for a wide range of aesthetic applications. Pollogen provides solutions for professionals in over 60 countries, addressing the specific needs and dynamic changes unique to the ever-evolving aesthetic industry.