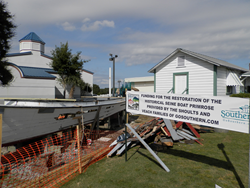 Destin, FL (PRWEB) November 13, 2014
The Southern Management Group is proud to provide the funding for the restoration of the Primrose fishing boat. The Primrose, constructed in 1925, is a member of the area's original fishing fleet and is an iconic piece of Northwest Florida history. Currently available for viewing inside the Destin History and Fishing Museum, the Primrose is a popular attraction for those on vacation in Destin, but will soon become the centerpiece of a new historical park.
"The Southern family of companies is proud to provide the funding for the refurbishment," said Kevin Veach, Owner of Southern. "It is Southern's vision to be the most caring company along the Gulf Coast. That includes helping to preserve our local history and artifacts, such as the Primrose, so that locals and visitors can continue to enjoy them, as well as learn more about the town's foundation."
The restoration of the Primrose is expected to be complete by the middle of December of this year. It will find a new home, complete with covered display to protect it from harsh weather, in a new historical park. This park, situated just outside the Destin History and Fishing Museum, will be designed and built by D.A.G. Architects. While the rehabilitation of this historic wooden fishing vessel will be completed relatively soon, the official dedication of the Primrose is not scheduled until May 2, 2015, Founder's Day. The Primrose will act as a very special centerpiece to the day's celebrations.
Southern has been a premier Gulf Coast vacation rental, property management and real estate company since 1995. Together, Southern Management Group represents countless real estate properties, approximately 1,050 short term rentals, more than 1000 long term rentals and 40 associations from Fairhope, Alabama to the Forgotten Coast of Florida. Owned and operated by two sets of brothers, Mike and Brad Shoults and Kevin and Kerry Veach, Southern is a family and community oriented Gulf Coast company. For more information about Go Southern and its family of companies, visit http://www.GoSouthern.com or call 800.879.0309.