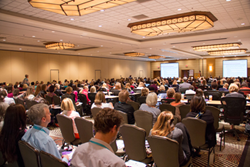 This was indeed one of the best Symposiums I have attended. It was filled with up to date scientific research, fun on the playground while learning, and opportunities for collaboration with therapists, families and teachers.
Denver, Colorado (PRWEB) November 12, 2014
More than 300 occupational therapists, clinicians, educators, researchers, and parents gathered at the sold-out 17th International 3S (Strategies, Science & Success) Symposium which was held November 7 and 8 in Tempe, Arizona.
The theme and directive at the conference was "The Changing Landscape of Sensory Processing Disorder" and the conference provided a dynamic educational environment with inspiring invited speakers. The 3S symposium covered material beneficial to both professionals--who diagnose, treat, and teach children with sensory challenges--and parents.
SPD is a neurological disorder that disrupts the way an individual processes and responds to sensations. SPD affects daily activities and relationships, impairing quality of life and includes the sensory challenges associated with attention deficit disorders (ADD and ADHD), autistic spectrum disorders, anxiety disorders, emotional and behavioral disorders, learning disorders, and other developmental issues.
The International 3S Symposium hosted keynote addresses, plenary sessions and educational workshops throughout the two-day event, and featured lunchtime table discussions, sweepstakes opportunities and exhibitors showcasing the newest and most advanced sensory solutions. Attendees also participated in a tour (sponsored by Landscape Structures, a leading manufacturer of playground equipment) demonstrating the use of a playground as a tool during therapy.
Presentations by distinguished experts in the field included the very latest findings in SPD research and evidence-based treatment, strategies to use in schools and clinics, practice management help and successful implementation of programs. The world-renowned faculty challenged attendees to expand their horizons by critically evaluating evolving trends in the field.
The presenters included Dr. Lucy Jane Miller, SPD Foundation; Dr. Elysa Marco, University of California San Francisco; Dr. Alice Carter, University of Massachusetts Boston; Dr. Patricia Davies, Colorado State University; Dr. Carol Van Hulle, University of Wisconsin-Madison; Dr. Matthew Goodwin, Northeastern University; Dr. Susan Bazyk, Cleveland State University; Carol Conway, Huson City Schools; Dr. Erna Blanche, University of Southern California; Dr. Diane Parham, University of New Mexico; Diana Henry, Henry Occupational Therapy Services, Inc; Dr. Mary Fristad, The Ohio State University; and Doris Shriver, OT Resources, Inc.
"This was indeed one of the best Symposiums I have attended," said Diana A. Henry, MS, OTR/L, FAOTA of Henry OT Services Inc. "It was filled with up to date scientific research, fun on the playground while learning, and opportunities for collaboration with therapists, families and teachers. It was an honor for me to be a part of this "happening" which will go down in history as instrumental for helping the world to recognize that SPD does exist, research is available and ongoing!"
In conjunction with the Symposium, the SPD Scientific Work Group (SWG) convened to share latest research results and discuss future collaborative research opportunities. Initially founded in 2002, the SPD SWG includes 50 physicians and scientists from research institutions such as UCSF, MIT, Duke and many other universities who have helped develop a blueprint for current and future research into SPD. This special meeting of the SWG was funded with a grant from the Wallace Research Foundation.
The Sensory Processing Disorder Foundation has made recorded presentations from the Symposium available online as a package through November 30, including all keynote addresses, plenary sessions and presentations in Workshop 2. Visit http://www.spduniversity.org for more information.
ABOUT SENSORY PROCESSING DISORDER FOUNDATION The Sensory Processing Disorder (SPD) Foundation, a Colorado 501(c)(3), is the world leader in research, education, and awareness for Sensory Processing Disorder, a neurological condition that disrupts the daily lives of more than 4 million Americans. The SPD Foundation offers educational programs, conducts SPD research, and provides resources for parents worldwide. Dr. Lucy Jane Miller, widely recognized as a leader in SPD research worldwide, founded the SPD Foundation in 1979. The SPD Foundation provides hope and help to individuals and families living with SPD. For more information, visit SPDFoundation.net or call 303-794-1182.