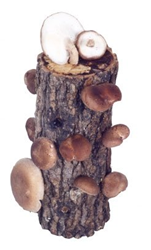 I like to say, "Get one for a gift and keep one for yourself." The Best Buy is a hot seller for the holidays.
Perkins, OK (PRWEB) November 11, 2014
"Mushrooms are Nature's gifts for good eating and good health," according to The Mushroom Lady, Sandra Williams of Lost Creek Mushroom Farm. "Shiitakes grow fast, they're packed with good flavor and health benefits. Shiitakes can stimulate the immune system, regulate blood pressure, and lower cholesterol. They're high protein, low fat. What a smart gift for Mother Nature to give people and for people to give other people."
"And, shiitake log kits are fun for years."
Logs live indoors like plants and can be placed outside in spring and fall for bigger harvests. They require regular soaking in non-chlorinated water. Soaking them in ice water "shocks" the log into making the mushrooms.
The logs are made from actual pieces of hardwood trees, inoculated -- injected with shiitake spawn (the seed material) -- and lovingly nurtured at the Williams' small mom & pop operation in Oklahoma. "We wait 8-10 months between inoculation and the first mushrooms," Sandra said. "We take good care of our logs for a long time so they'll be ready to grow shiitakes when our customers get them." (Watch the process here.)
Doug Williams, a shiitake farmer for over 30 years, tends to the progress of Lost Creek's residents. He picks each log sent out from the farm, making sure it is healthy, strong and ready to grow shiitakes.
"Doug loves his shiitake logs," Sandra teased, "He knows each of them. He knows who their friends are."
"So our log kits come from love," she continued, "and more than that, they bring love with them. Foods can create different feeling states because they affect our chemical makeup and our energies. Shiitakes create feelings of joy when we eat them. Watching them emerge from the log and 'bloom' day by day is a joy in itself."
Lost Creek Mushroom Farm shiitake log kits are priced on the website, http://www.shiitakemushroomlog.com from $18-$90, including shipping. They are available at slightly higher prices at Amazon.com. Kits come with instructions and recipes. All logs over 8 inches long are fully guaranteed to "fruit" – grow shiitakes. Early orders guarantee availability.
Kits include the Original Tray Kit with a 14-inch log and its own tray for soaking, fruiting, and storing the log at $49.95; a 10" Single Log Kit for $29.95, and a 6" 'Shroomie for $18. Kits with two logs can grow more mushrooms per fruiting or fruit every month by alternating the producing log. The Ma & Pa Kit has two 10" logs for $49.95. The Best Buy is two Original Tray Kits shipped to the same address for $89.95, a savings of $10.
"I like to say, 'Buy one for a gift and keep one for yourself.' The Best Buy is a hot seller for the holidays. A unique gift."
The number for phone orders and to request a free brochure is 1-800-792-0053.
Lost Creek Mushroom Farm donates a portion of its sales to the Williams' Mushrooms in Ghana, a project of the Mushrooms for Well Being Foundation. "$8,000 is all that is needed for Ghana to have a consistent spawn supply for its small-scale mushroom farmers," Sandra said. "We want to meet that goal this year."