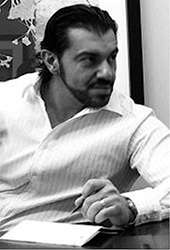 It wasn't until I brought my business online that I began to experience success.
Costa Mesa, CA (PRWEB) November 12, 2014
The Westin convention halls reverberated with hours of laughter and instruction Friday and Saturday as the biggest names in Information Marketing shared impactful lessons with the over 250 attendees at this year's Online Info Blueprint Workshop. The program was designed to assist entrepreneurs and experts from diverse backgrounds and industries in the creation, marketing, and selling of online information products.
Lectures covered everything from writing sales copy to mastering online marketing and featured speakers from all over the web. Kevin Harrington, the billion dollar Information Marketing mogul and star of the hit television show Shark Tank, presented a speech detailing his biggest successes and the paths he took to reach them.
According to Bedros Keuilian, the host of the event and mastermind behind its conception and orchestration, the workshop was a huge success. "We had the opportunity to help hundreds of people from all the around the globe," says Keuilian, "and I am proud to report our success. This event was dedicated to entrepreneurs with skill sets that have been offset by information easily accessed online. Instead of fighting against the online market, our online coaching shows struggling offline businesses how much online potential they truly have."
Keuilian explains that many industries are faced with declining sales and suffering business models due to new Internet systems and online products regularly displacing and replacing them. "Take the travel industry," he says, "retail travel locations have dropped from 34,000 during the 1990's to less than 13,000 today, all due to new online trends. We hope to show experts and small business owners suffering from this type of decline how to effectively compete in an online market."
Keuilian presented his own success story as the most powerful proof of his methods and the potential within the Online Information Market: "I immigrated here from a communist country as a child and during my first years in America my family survived on food scavenged from dumpsters. Later, when I worked as a personal trainer, life wasn't much different. I lived out of my car, showered at the gym where I worked, and made hardly enough money to survive. It wasn't until I created my first online information product and brought my business online that I began to experience remarkable success." Today, he is his hugely successful and considered the "hidden genius" behind dozens of successful online information products.
"The fundamental goal, the driving force behind any initiative I create," says Keuilian when explaining the inspiration behind the event, "is simply and genuinely to help people. And we did exactly that with our teaching and mentoring this past weekend."
About Keuilian Inc.
Keuilian Inc. (est. 2007) was founded by fitness marketing and business consultant Bedros Keuilian, who has been named the "hidden genius" behind several of the biggest names in the fitness industry. In addition, he is also the founder of the popular fitness marketing blog, PTPower.com, and founder and CEO of the indoor fitness boot camp franchise, Fit Body Boot Camp.
To learn more about Bedros Keuilian and his fitness boot camp franchise, please visit: http://www.ptpower.com/ and http://www.myfitbodybootcamp.com/