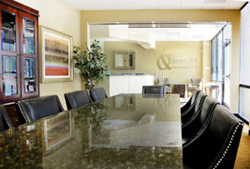 "A virtual Fraternity of Super-Star Trial Lawyers."
Columbia, Maryland (PRWEB) November 14, 2014
The Trial Lawyers Board of Regents nominated Portner & Shure for the 2014 Litigator Awards based on the firm's million and multi-million dollar verdicts and settlements attained during the award eligibility period.
"Regarded as the highest honors in Trial Law, the Awards are the only national honor based strictly on 'Litigation Achievement.'" The Litigator Awards only recognize the best trial attorneys in America and measure what matters most: performance. Portner & Shure consistently brings in over one million dollars every month from winning cases for our clients throughout Maryland and Virginia. Our personal injury firm would not be able to maintain this consistency without the hard work and dedication of the entire staff, from the attorneys to the paralegals. In fact, Jonathan Portner, the firm's managing partner, has won several awards recognizing his excellent litigation skills.
Firms are only nominated once the Nominations Committee exhaustively vets them. "As part of the selection process, independent audit and research teams screen and evaluate nominees for demonstrated achievement of 'Performance Benchmarks' within one or more of 72 pre-defined practice specialty categories." These ratings are strictly performance based, relying solely on actual verdict and settlement dollar outcome data. Client testimonials and peer reviews are not factored in during the nomination process, thereby making this nomination even more prestigious.
Almost 1.1 million attorneys are considered for these Awards, with only about twelve (12) law firms per state being recognized for outstanding litigation skills each year. These Litigator Awards honor the top one percent (1%) of all lawyers in the country. Portner & Shure, with its nomination for the 2014 Litigator Awards, joins "a virtual Fraternity of Super-Star Trial Lawyers." The Awards are a "'powerful endorsement' of superior litigation achievement that provides a strong reason [for a client] to trust their case" with a nationally-recognized top litigation law firm.