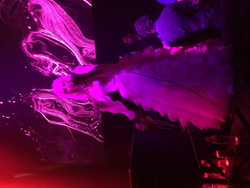 "Ilseviolin performed for Mixmag 2014, the Nr1. EDM Magazine in the world"
(PRWEB) November 11, 2014
Ilseviolin made a statement as the premier electronic violinist of club music this weekend in Hollywood. The South African beauty's presence in multiple nightclub events in and around LA has been considered as a successful statement for her new album which is titled "ClubDeluxe". After an incredible two hour set of inspiring music on the main stage at Avalon in Hollywood, IlseV had left her mark in Hollywood.
Two of the most recognizable tracks were, "Violin's Revenge", a collaboration with Lange and "Black Chrome", with the internationally acclaimed British house DJ Carl Cox, recorded in Melbourne Australia.
Ilseviolin has been recording and performing with Kool and the Gang in preparation for their new album that is due out this year. IlseV was featured on Kool and the Gang's Christmas Album in 2013 that was rated on "Billboard" in 2014. Ilseviolin has been working very closely with George Brown from Kool and The Gang and she says "I am so honored to be a part of this album once again since Kool and the Gang are getting their Star on the Hollywood Walk of Fame in March 2015!"
Kool and the Gang have sold over 70 million albums worldwide, and the band has influenced the music of three generations, thanks to songs like Celebration, Cherish, Summer Madness and Open Sesame,Jungle Boogie and Hollywood Swinging.
Kool & The Gang has earned two Grammy® Awards, seven American Music Awards and amassed 25 Top Ten R&B hits, nine Top Ten Pop hits and 31 gold and platinum albums. They have performed continuously longer than any R&B group and has more # 1 hits than any other R&B group in history.
IlseV will once again be doing the strings on Kool and the Gang's 2014 album.The Gang are always joking that Ilse is leading this massive orchestra with rows and rows of string players, but in fact its just her layering sometimes up to 8 layers of strings per section to get the sound nice and full sounding like a real orchestra.
Ilseviolin who performed for Mixmag 2014, the Nr1. EDM Magazine in the world, will also be recording the soundtrack of the Theme song for the "Living with Aids Foundation" this upcoming weekend. The theme song will be translated in 40 different languages and IlseV will be doing the Afrikaans translation. The Foundation has been started by the beloved cousin of Michael Jackson, Tamar Jackson in his memory and also to follow in his legacy of hospitals for the children.