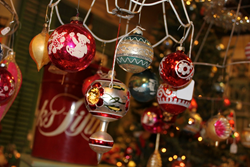 Apple Valley, MN (PRWEB) November 13, 2014
Haupt Antiek Market's November 20-23, 2014 market focuses on a vintage Christmas theme, the December 4-7, 2014 market is filled with bright, sparkling items to prepare for New Year's Eve celebrations.
Don't be deceived by this market's modest size. Devoted regulars and new customers alike visit Haupt Antiek's 13 regular vendors and one monthly guest vendor for fantastic holiday finds like vintage Shiny Brites, '40's through '60's holiday decor, industrial antiques and antique furniture, jewelry and gifts. Click http://www.hauptantiek.com for all of our dates and hours or like us on our facebook page - http://www.facebook.com/Hauptantiekmarket Haupt Antiek Market is located at 7570 W. 147th St. in Apple Valley, MN - just 7 miles south of the Mall of America.
In the antiques world, having unique or rare vintage items for customers to browse and buy is the staple of almost every shop. At the Haupt Antiek Market in Apple Valley, MN, things a done a little bit differently.
While only open 4 days out of the month,customers are provided with a totally fresh experience every time they visit. This includes having a new and fun theme and fresh inventory each month, filled with hard to find items, vintage junk, re-purposed antiques and much more. "We look for things that bring back a memory of how your mom, aunt or grandmother decorated," owner Deb Haupt says.
With over a decade of experience in the antiques industry, our passion for this business continues to grow and be inspired. Our shop is filled with independent, creative antique dealers, who are each given their own space to display their market niche and every month a guest dealer is welcomed to display their unique finds. The owners, Deb & Greg Haupt are inspired by their European flea market shopping trips. They have been bringing home containers of unique items for over 12 years. The Haupts plan yearly flea market shopping trips to Europe and have opened it up to take tour groups.
Deb Haupt
Haupt Antiek Market
651-329-3871
http://www.facebook.com/Hauptantiekmarket
http://www.hauptantiek.com