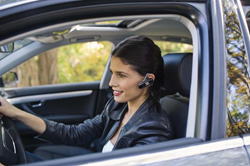 According to AAA Foundation for Traffic Safety has concluded that new and popular hands-free vehicle features might actually increase mental distractions for drivers instead of decreasing them.
New York, N.Y (PRWEB) November 13, 2014
Many of the recent and trendy hands-free features available in cars may actually increase drivers' mental distractions as opposed to helping avoid them. This is according to a study released Oct. 7 by the AAA Foundation for Traffic Safety. Researchers found that drivers can become so distracted by voice technologies that they could miss stop signs, pedestrians or other cars because their minds are not fully focused on the road ahead, the report said.
The study states that the accuracy of the voice recognition software dramatically influences the rate of distraction. Low accuracy and reliability caused a higher level of distraction, the report states. Also, composing text messages and emails using in-vehicle technologies was more distracting than using the system to listen to messages. The study separately assessed Apple's Siri and determined that its use significantly distracted drivers.
New York personal injury lawyer Kenneth A. Wilhelm says that these recent findings should serve as a warning to all motorists about the dangers of distracted driving. "Drivers tend to believe that they are not distracted if they are using hands-free technology in their cars. This study proves that notion wrong and cautions drivers about getting complacent when using hands-free devices and technologies."
The study particularly warns drivers about cognitive distractions, Wilhelm said. "Even if a driver is able to keep his eyes on the road or hands on the wheel thanks to hands-free technology, his attention is still not 100 percent on driving. It is either on answering a call, carrying on a conversation, sending a text or an email. All these activities, without a doubt, take away the driver's attention, which can be very dangerous."
Serious injuries can occur to the distracted driver, his or her passengers or to others on the roadway, Wilhelm said. "Injured victims are physically, financially and emotionally devastated as a result of auto accidents. Drivers who wish to send a text or answer a phone call should pull over. No email or text is worth a life or a serious injury."
Contacting the Law Offices of Kenneth A. Wilhelm
For questions or comments please contact the Law Offices of Kenneth A. Wilhelm. Our New York personal injury attorneys can help victims and families with auto accident cases. We can also help with personal injury cases in New Jersey, Connecticut, Pennsylvania, or Florida.
The toll free phone numbers for us are:
1-800-WORK-4-YOU (1-800-967-5496), 1-800-RADIO-LAW, 1-888-WYPADEK, OR 1-800-LAS-LEYES
Please visit us at: http://www.WORK4YOULAW.com
The Law Offices of Kenneth A. Wilhelm
445 Park Ave, 9th Floor
New York, NY 10022
(212) 545-7373