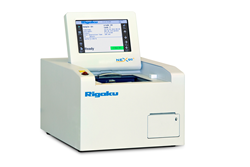 Austin, Texas (PRWEB) November 13, 2014
Applied Rigaku Technologies, Inc. today announced a new method for analyzing lube oils that demonstrates the capabilities of the advanced, high-resolution Rigaku NEX QC+ EDXRF benchtop analyzer. The new method, presented in Rigaku Application Note #1312, describes the effective measurement of phosphorus (P), sulfur (S), calcium (Ca), and zinc (Zn) in lube oil in compliance with ASTM D6481, a standard test method for measuring lube oil, using energy dispersive X-ray fluorescence (EDXRF) spectrometry.
Quality control and quality assurance (QC/QA) during the manufacturing of lube oil are essential since certain oils are formulated with additives that typically contain one or more of the noted elements. Determining the concentrations of these elements provides an indication of the additive content of the oils.
A simple and quick method for analyzing the lube oils is needed throughout the QC/QA process. The test method described in the report covers the quantitative determination of additive elements in unused lubricating oils, and is primarily designed to be implemented at the manufacturing location for the monitoring of additive elements, though it is also suitable for use in central and research laboratories.
Designed for demanding QC/QA applications, or for situations where analysis time or sample throughput is critical, the NEX QC+ spectrometer employs next generation silicon detector technology and features a 50 kV X-ray tube for wide elemental coverage. It is shown to be an ideal tool for monitoring and controlling lube oil additives and formulations during blending and QC processes.
For the featured method, empirical calibrations were built using a suite of 23 commercially available calibration standards that are representative of the lube oil formulation being analyzed. Ten repeat analyses were performed with representative samples from the calibration suite to demonstrate instrument precision. The results demonstrate excellent performance in analyzing basic lube oil formulations using the NEX QC+ analyzer, indicating that, given stable samples, proper sample handling and proper calibration techniques, the Rigaku NEX QC+ EDXRF spectrometer can achieve excellent results in monitoring the elemental concentration of lubricating oils.
A copy of this report may be requested here.
About Rigaku:
Since its inception in Japan in 1951, Rigaku has been at the forefront of analytical and industrial instrumentation technology. Rigaku and its subsidiaries form a global group focused on life sciences and general purpose analytical instrumentation. With hundreds of major innovations to its credit, Rigaku and its subsidiary companies are world leaders in the fields of small molecule and protein crystallography, X-ray spectrometry and diffraction, X-ray optics, as well as semiconductor metrology. Rigaku employs over 1,100 people globally and its products are in use in more than 70 countries – supporting research, development, production control and quality assurance activities. Throughout the world, Rigaku continuously promotes partnerships, dialog, and innovation within the global scientific and industrial community For further information, contact:
Scott Fess
Product Manager
Applied Rigaku Technologies, Inc.
tel: +1. 512-225-1796
info(at)RigakuEDXRF(dot)com