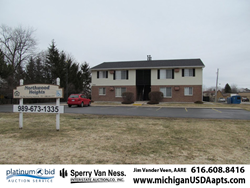 Managing Director, John Johnson stated, 'Our team is pleased to have been selected by USDA for this engagement and look forward to very successful auctions on November 25th.'
Coopersville, MI (PRWEB) November 13, 2014
The United States Department of Agriculture has contracted Sperry Van Ness/Interstate Auction® to auction three apartment complexes located in Pewamo, Clare and Cass City, Michigan. The event will be held online with the conclusion of bidding on Tuesday, November 25th.
The Government owned complexes include:

Countryside Apts., Pewamo, MI – 16 Units
Whispering Winds Apts., Clare, MI – 24 Units
Northwood Heights Apts., Cass City, MI – 22 Units
The Auction team handling the event consists of SVN/Interstate Auction®, Platinum Bid Auctions and SVN/Gilmore Auction with partners John L. Johnson, CCIM, Jim Vander Veen and David Gilmore, CCIM. Managing Director, John Johnson stated, "Our team is pleased to have been selected by USDA for this engagement and look forward to very successful auctions on November 25th."
Each property will have scheduled open house/inspections with guided tours. Interested investors should visit http://www.MichiganUSDAApts.com for property information, photos, terms, inspection schedules and bidder registration.
Founded in 1987, Sperry Van Ness is one of the largest and fastest-growing commercial real estate brokerage firms in the industry, with more than 1,000 advisors in over 150 locations. The firm is built to immediately market every one of its clients' properties to the entire brokerage community. Sperry Van Ness delivers results for clients through a proven business model that provides advanced marketing and technology tools. Based in Irvine, California, the firm operates internationally and provides brokerage, consultation, asset management, property management, leasing, accelerated marketing, and auction services. Sperry Van Ness transactions total billions of dollars annually in office, multifamily, retail, industrial, self-storage, hospitality and land transactions.
SVN Auction Team members are fully integrated with Sperry Van Ness International and the 1,000 member advisors. Collectively, the team boasts more than 100 years of experience in planning, orchestrating and conducting successful auctions and sealed bid sales throughout North America, Mexico, Puerto Rico, and the U.S. Virgin Islands.
All Sperry Van Ness Offices Independently owned and operated.
Contact Information:
Jim Vander Veen
Platinum Bid Auctions
(616)608-8416
John Johnson, CCIM
Sperry Van Ness Interstate Auction®
(404)303-1232
David Gilmore, CCIM, CAI, AARE
Sperry Van Ness
(504) 468-6800