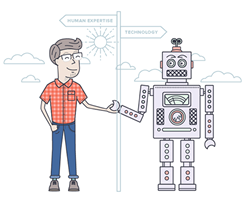 Mike Mothner's insight is a great reason why leveraging an agency like Wpromote is so important, because you guys have this level of expertise that the average advertiser may not possess.
El Segundo, CA (PRWEB) November 13, 2014
Recently, Wpromote CEO Mike Mothner joined Google veteran Heather Wilburn for Ask an Agency, an exclusive and invite-only webcast hosted by the Google Partners Community in their weekly Hangout On Air.
Wpromote demonstrated the expertise that makes them a leader in online marketing by sharing the best practices and strategies that have cemented their position as an exclusive Google partner since 2001, as well as the only agency in the nation to be a member of Google's SEM Council, Social Council, and Client Forum. "Wpromote has worked with Google longer than I have, starting with what was then known as AdWords Select way back in 2001," said Wilburn, who currently works as an Agency Development Manager on Google's SMB Performance Agency team. "Not many agencies can say that!"
Wilburn also commented that "[Mike Mothner's insight is] a great reason why leveraging an agency like Wpromote is so important, because you guys have this level of expertise that the average advertiser may not possess, so you guys can jump in there right away and help them."
The top digital marketing firm was invited to speak about their unique positioning as an agency, their long-standing and unique professional relationship with Google as a certified partner, and take questions from the Ask an Agency audience. Mothner, speaking on behalf of the firm, was also invited to talk about Intuitive Search Intelligence, his agency's unique approach to digital marketing. Some specific points of discussion were:

Intuitive Search Intelligence: Intuitive Search Intelligence, or ISI, is a method for fully optimizing any and every digital marketing approach by the intelligent application of data-driven decisions and human marketing expertise. Utilizing ISI requires holistically managing SEO, PPC, Display, Email, and Social Media campaigns by sharing data and strategy across multiple channels. Intuitive Search Intelligence teaches marketers to ask why about each success and failure, organically combining every piece of a digital marketing campaign so that the result is greater than the sum of its parts.
Looking Forward With Data: Wilburn and Mothner also covered the use of Google Analytics, and other web analytics programs, to drive digital marketing campaigns. Arguing that analytics tools are too often used to look backwards instead of forwards, Mothner described how data crunching has to be contextualized within human expertise in order to be worthwhile.
Wpromote's Mantra: Zooming out and thinking about every client's overall business objectives is one of the most important things that Wpromote focuses on, according to Mothner. "When we really think about strategy and goals, we're trying to zoom out as much as possible and have a business conversation," he explained. PPC, SEO, Email, and Display aren't the end, but the means; they're "arrows in the quiver" for achieving greater overall business goals.
"It was awesome to share some of the amazing things we are doing for our clients and some of the thought leadership in our space with our friends at Google," said Mothner of the Hangout. "Not to mention a great chance to check out their Google Hangout studio and take in an amazing meal at one of the famous Google cafes!"
Each Ask an Agency webcast invites the nation's best firms to sit down with a seasoned Google employee and discuss topics related to online marketing, ranging from YouTube video ads to the importance of campaign structure. Each Hangout also includes a live Q&A session with the Google Partners Community relating to the week's topic of discussion.
Wpromote's Ask an Agency Hangout On Air is now live as of November 10th, 2014. It is available through the Google Partners YouTube channel. To see the rest of the discussion and hear the complete ISI paradigm, as well as the other advice Wpromote had to give, watch the full Hangout online.
About Wpromote
Wpromote is an award-winning online marketing firm headquartered in El Segundo, California. Founded in 2001 by Michael Mothner, Wpromote has helped hundreds of clients from Fortune 500 companies to small startups grow their businesses online through search marketing, mobile and social. Integrated search engine marketing clients include Bayer HealthCare, Toyota, Verizon, Scion, TOMS, Dickies, Cleveland Golf, TUMI, Zenni Optical, and QlikView. With unmatched experience in search marketing and an unrivaled dedication to clients' results, Wpromote helps companies big and small act and move like large enterprises. For more information on Wpromote and its services, visit http://www.Wpromote.com.
About Google Partners
Google Partners is dedicated to giving ad and marketing agencies access to free training, exclusive tools, and one-on-one guidance and support from the Google Partners on how to help their business clients succeed on Google. The Google Partners Community features a number of educational web series posted on both their YouTube and Google+ pages, where services such as Google AdWords, Google Analytics, Google Shopping, and much more are discussed. To learn about becoming a member of Google Partners, visit https://www.google.com/partners. To see what the Google Partners Community has to offer, visit their Google+ page.