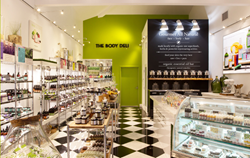 The knowledge we've obtained about super food skincare combined with our years of experience in the beauty industry has led to this – the store of our dreams!"
Palm Desert, California (PRWEB) November 13, 2014
The Body Deli, the original pioneer for fresh, raw, organic skin and body care, announces the opening of its new flagship store on El Paseo, a shopper's paradise for the area's most affluent residents and visitors. With its storefront facing The Gardens on El Paseo, neighbors include luxury retailers Tiffany & Co., Louis Vuitton, Saks Fifth Avenue, and Kate Spade, and upscale restaurants such as Mastro's Steakhouse and trendy Il Corso.
Providers of fresh, raw, organic nutrition for the skin since 2001, The Body Deli co-founders David Parker and Margaret Skarin made the decision to open a new store in the heart of the luxury shopping district based on the increasing popularity of their products with sophisticated clientele who expect the absolute best. Their myriad of nutrient-rich creations for the body, skin, and hair deliver vitamins, enzymes, and minerals at their peak potency, and have cultivated a loyal customer base among celebrities including Robert Downey, Jr., Goldie Hawn, and Kate Hudson.
"Our gorgeous new store is modeled around the concept of the wonderful gourmet food markets found across Europe," stated Parker. "We completely re-imagined a more customer-interactive experience with our products, and spared no expense in order to provide the proper showcase for our complete collection of body, skin and hair care options. We're thrilled to welcome new and existing customers to our amazing new playground for the senses."
Serving as a shrine to an incredible collection of lotions, creams, scrubs, oils, washes, soaps, mists, and additional merchandise, the striking new store features black granite and white marble checkered floors and Italian marble counter tops and deli cases, which The Body Deli uses to maintain maximum effectiveness of its fresh, handcrafted, preservative-free creations. Customers can sample the aromatic products at a lush demonstration station, and coming soon is a therapeutic essential oil bar and an area to formulate custom scrubs from scratch.
"I love engaging customers with free samples and introducing them to new scrubs, soaps and washes at the demo station," explained Skarin. "We hope our customers are as excited about this new location as we are. The knowledge we've obtained about super food skincare combined with our years of experience in the beauty industry has led to this – the store of our dreams!"
The Body Deli also recently launched a new website featuring a selection of items that are perfect for everyone's holiday shopping list: mini body gift kits; the iconic Palm Springs Spa Collection made from locally grown Medjool dates, grapefruit and blood oranges, with vanilla, ginger and a hint of evening jasmine; and seasonal specials such as Pumpkin Spice Scrub – a holiday favorite.
During their popular annual Black Friday sale scheduled Friday, November 28 through Monday, December 1, 2014, all products made by The Body Deli will be 25% off the original price. The company will also award $25 gift certificates to the first 25 people who shop at each of its Palm Desert stores on Friday, November 28.
The Body Deli's new flagship store is located at 73-560 El Paseo, Suite B, in Palm Desert, CA. Hours of operation are 10 AM – 6 PM Monday through Saturday, and 11 AM – 5 PM on Sunday, and the phone number is 760-836-9106.
The original location at 73-910 Highway 111, Suite B, in Palm Desert is open 10 AM – 6 PM Monday through Saturday, and the phone number is 760-340-3731.
Products are available at both Palm Desert locations, online at TheBodyDeli.com, and at other fine Coachella Valley establishments including Raymond | Lawrence, Ace Hotel & Swim Club, and The Ritz-Carlton, Rancho Mirage, among others.
For more information please visit TheBodyDeli.com.