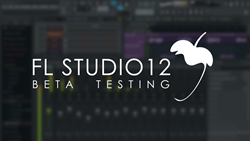 FL Studio includes Lifetime Free Updates
(PRWEB) November 13, 2014
The FL Studio 12 BETA is the first public release of FL Studio 12 due for release sometime next year. Image-Line are inviting account holders to download the beta and report their experiences and bugs.
WHAT'S NEW?

Fully reworked scalable interface - Any screen size or resolution you use, FL Studio will always fit
New mixer - Includes 6 new view modes and can now be rescaled vertically.
Multi-touch – Multi-touch capability extends to the Mixer.
Browser – New category tabs and the ability to delete content on right-click
Channel settings - Have been integrated into the Plugin Wrapper (no more Channel settings pop-up).
Piano roll - Piano roll Auto-zoom can now be deselected from Settings > General > Auto zoom in piano roll
Playlist - Multiple drag and drop for audio files onto Playlist (from a Windows file browser).
Step sequencer - Step sequences are now interchangeable with Piano rolls.
VST Plugins - VST plugin installation & discovery improved and simplified.
Fruity Formula Controller - Updated, new UI.
Fruity Envelope Controller - Updated, 8 Articulators, Mod X/Y env, Smart Knobs, New UI.
Fruity Keyboard Controller - Attack smoothing, new UI.
Fruity Send - Can now send to any Mixer track
More to come...
LIFETIME FREE UPDATES
Image-Line remind customers that as FL Studio includes Lifetime Free Updates, they can buy FL Studio 11 now and update to FL Studio 12 (and all future versions) free after it has been released.
DOWNLOAD LINKS
Established in 1994, Image Line Software provides high quality music applications to the computer-based music community and is well-known for its leading digital audio workstation FL Studio (formerly FruityLoops), FL Studio Mobile for Android and iOS; high-quality synthesizers including Autogun, DirectWave, Drumaxx, Groove Machine, Harmless, Harmor, Morphine, Ogun, Poizone, Sakura, Sawer, Slicex, Sytrus and Toxic Biohazard. Innovative effect plugins including Gross Beat, Hardcore, Maximus, PitCher & Vocodex; and finally, a wide range of sample libraries used in their multi-sampler plugins DirectWave and Soundfont Player. Image-Line also produces the acclaimed DJ mixing software application Deckadance. In addition to its audio software, Image Line Software develops and distributes the web site building application, EZGenerator.
For more information, please contact:
Scott Fisher, Communications Manager
Image Line Software
E-mail: press(at)image-line(dot)com
# #